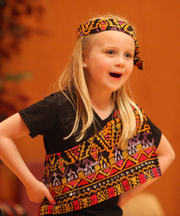 Wamidan, the College's world music and dancing ensemble, performed to a large crowd Wednesday on the Salter Hall stage. This performance, however, was marked by lots of fresh faces — those of the 17 children from the Montessori School of Crawfordsville who got in on the fun.
Wamidan, founded nine years ago by Music Professor James Makubuya, continues to perform familiar African folk tunes on authentic instruments, but over the years it has evolved and remade itself through the varying interests of the performers. See pictures from last night's performance here and here.
Four years ago, women from DePauw University began commuting to Crawfordsville to practice with Wamidan as musicians and dancers. DePauw now boasts its own chapter of Wamidan, though the excitement is generated when the dancers join with their fellow musicians and dancers from Wabash and the greater Crawfordsville community.
Last night's performance featured a wide range of musical cultures, including favorites like the South African Zulu folk dance "Gumboot." It's amazing to see 20 dancers, clad in blue jeans and thick, heavy, awkward gumboots all dancing and slapping in perfect rhythm.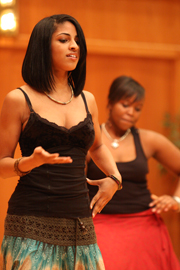 But there were also lots of new numbers featured last night, widening the musical sphere created by Wamidan. The DePauw dancers' performance of "Aaja Nachle," which is an entertaining folk dance of India, featured long, flowing dresses and the easy beat of drums, which wowed the large crowd.
The tiniest, youngest performers, though, stole the show. Sister Stella Sabina has worked with Margo Campanelli, who directs the Montessori School of Crawfordsville, to incorporate African music and dance into the curriculum. With Sister Stella and librarian Brian McCafferty accompanying on drums and Toshie Kazahaya helping the youngsters with their song lyrics, the Montessori students did two numbers that brought down the house. See pictures of the Montessori kids here.
Wabash student Craig O'Connor added a new dimension to the concert. Accompanied by McCafferty on drum, O'Connor played a medley of Irish folk tunes on his fiddle, including the increasingly fast "Runaway Jig" that felt like his fingers were, in fact, running off the fiddle!
Ye Tang, a freshman from Chongqing, China, walked through the audience in Salter Hall playing a mesmerizing tune from his homeland called "Trip to Gusu." Tang performed on the dizi, a traditional Chinese bamboo flute.
Nine years ago, Wamidan introduced the Wabash community to the varying styles of music and dance from across the continent of Africa. Today, those sounds echo through Salter Hall, but are accompanied by new performers and new music that allow the Wabash community to truly experience the world's great music. And through music, partnerships — like those with DePauw and Montessori