A lawyer who for nearly 40 years has fought hate crimes and founded the Southern Poverty Law Center was honored by Wabash College Monday night. A record crowd of pre-law students, alumni lawyers, faculty, and staff gathered to honored Morris Dees at the David W. Peck Awards Banquet.
See all of the Peck Banquet honorees— including Junior Peck Medal recipient Sean Clerget — by clicking here.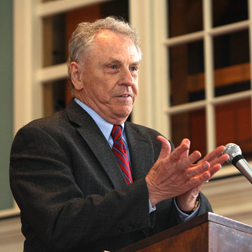 Scott Himsel '85, an attorney, professor, and the College's Pre-Law Advisor, said when introducing Dees, "At Wabash College, we educate men to think critically, act responsibly, lead effectively, and live humanely. Our speaker has done just that… by successfully battling hate groups across this country.
"The goal of the Peck Medal is to inspire our pre-law students and alumni lawyers and we could do no better than Morris Dees."
Dees not only co-founded the Southern Poverty Law Center (SPLC), he's the chief trial council for the organization that he created with Joseph J. Levin, Jr. as a civil rights law firm in 1971. The SPLC provides free legal service to victims of hate crimes and discrimination.
In a public lecture and at the Peck Banquet, Mr. Dees talked about his childhood growing up on a Alabama cotton farm. As a young man, he wanted to do as his father had done — to own and run a farm.
"I wanted to get a piece of land and be a farmer, but farming can be a big gamble," Dees said, referring to boll weevils that destroy entire crops. "Then my Daddy said, 'I've never seen a boll weevil in a law book.'
"So I went to law school to earn a living."
After graduating from law school at the University of Alabama, Dees soon discovered he was representing many of the people with whom he had picked cotton and moved his practice to civil rights law.
Dees was inspirational in his talks, singling out the College's pre-law students.
"You don't have to plan your future completely," he said. "Live the way your conscience takes you… When you get a job at a major corporate law firm — and many of you will — you don't park your conscience at the door."
Indeed, Dees has done anything but that.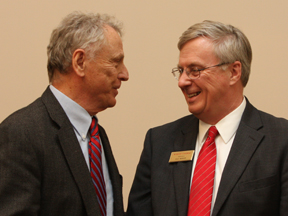 In his presentation of the esteemed Peck Medal, Wabash President Patrick White talked about the far-reaching impact Dees and the SPLC have had on this country.
"Too often the law has been worked to protect the powerful," President White said. "Morris Dees has helped make this country stronger. He's made the law the servant of all people — not just the powerful."
Throughout his career, Morris Dees has won landmark cases for victims of discrimination and hate crimes. One of his earliest victories came in South Texas when he represented a group of Vietnamese immigrant fishermen. The Ku Klux Klan burned a number of fishing boats and intimidated both the Vietnamese and locals. Dees and his fellow attorneys from the Southern Poverty Law Center took on the Klan, which resulted in a strong injunction against the Klan — the first of many such defeats.
Dees stood on the docks on the Galveston Bay on the morning fishing season started and was moved by what he saw.
"I could see pride and happiness in the faces of these new Americans," Dees said. "As I stood there, I felt proud not only in being a lawyer, but as an American — seeing our justice system and way of life at work."
Over the last 27 years, Dees has won large monetary judgments against the Klan and similar hate groups totaling close to $40 million.
"America is great because of diversity, not in spite of it. And I learned that by representing those Vietnamese fishermen in Galveston, Texas," Dees said.
For Dees, though, the monetary judgments and major cases against large hate organizations are just part of what he does at the Southern Poverty Law Center. Another component is education. Driving much of that focus is SPLC's teachingtolerance.org, which provides information and educational materials to parents, children, and teachers. "It's one thing to fight hate in court, but it is another thing to do it in the classroom," Dees said of the "Teaching Tolerance" program is now being used in 80,000 elementary schools.
"When we really cross the lines that separate us in America… it will be because we learned to accept those different than us and to appreciate what they bring to our country," said Dees.
In both of his remarks, Dees drew on history — from the Biblical prophet Amos to Reverend Martin Luther King, Jr. and continuing through the historic election of Barack Obama exactly 40 years after King was assassinated.
"Forty years have passed [since Martin Luther King, Jr.] and we've crossed the River Jordan and the ball is now in your court," Dees said to the pre-law students gathered in the Chapel to hear him speak. "It all starts over with each generation in this country. Dr. King had great faith in us as a nation… I have great faith, too — in you — the young people in this nation.
"Some day someone — maybe in this room — will write the story of your time. I predict that because you share a passion for justice, that this book will be truly about America's greatest generation."
When speaking to the throng of Wabash's alumni attorneys who returned to the College for the Peck Banquet, Dees talked about his own inspiration — Clarence Darrow. He urged the Wabash grads to continue to "Ask the great questions that agitate our world today," just as Darrow had once said.
"You hold the keys to the gates of justice… and that is a very serious responsibility."
The David W. Peck Awards Banquet has been held each year since 1974. The event was established by long-time Trustee John P. Collett '24 in tribute to his dear friend and fellow Trustee David W. Peck '22. Peck enrolled at Wabash at age 16, graduated at 19, and had finished Harvard law by 22. He had a long and distinguished career as a judge and partner in the New York law firm of Sullivan and Cromwell.