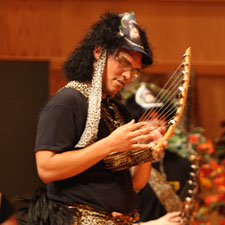 Wabash College's Music Department invites you to a concert given by Wamidan World Music Ensemble as they present their last concert of the season at 8 p.m. Wednesday, April 8 in Salter Concert Hall in the Fine Arts Center.
Completing its ninth season, Wamidan was founded in the fall of 2000 with an initial focus on East African music and dance traditions and has since expanded its programs and presentations to cover other music and dance cultural regions of the globe.
The Wednesday evening program will consist of a Ganda welcome folk song, Twabalamusa; a Ganda folk song, Nandere; an Indian folk dance, Aaja Nachle; an Irish duet piece with Craig O'Connor and Brian McCafferty; Gumboot, a south African zulu miners' folkdance; a Japadhola folk dance, Olukhun; Alur folk dance, Aryeno; a Chinese flute solo by Wabash sophomore, Ye Tang; an Acholi folk song, Siliim; a folk dance of the Acholi harvest celebration; and students from the Crawfordsville Montessori School will perform dance songs.
The concert is free and open to the public.