Two Wabash College sophomores are headed to Philadelphia to compete at the World Irish Dancing Championships from April 5 through April 12.
Colin Fleck and Matt Kaster will be competing against more than 6,000 dancers representing countries from all five continents.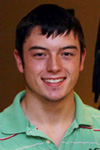 For Fleck, this will be his eighth trip to the championships while it is the fourth appearance for Kaster. Both will compete on April 10.
"The first time was the most meaningful to me, when I qualified," Fleck said. "But now I expect to be at the top and I use my past accomplishments as motivation."
Fleck has finished as high as fourth in his age group at the world championships while Kaster has finished 16th in his age group. This year, both will be competing in the 19-20 age group.
As if Fleck or Kaster need any more motivation than to be the best in the world, this year's competition will be the first-ever World Irish Dancing Championship held on American soil.
"It is awesome that it is here in the United States," Kaster said. "It shows the world that more people are becoming interested in Irish Dancing.
"With more countries getting the chance to host the competition, it has made Irish dancing more wide spread."
Both men said they started dancing when they were about 8 years old. Irish dancing runs in Fleck's family.
"Colin is one of five dancers in the family," said Donna Fleck, Colin's mother.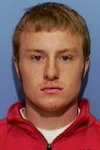 Donna said there are seven judges at the World competition and they judge the dance routines like ice skating in Olympics. "Irish dancing is all about the dancer's feet, posture and coordination," she said. "Footwork is a key as well as rhythm and being on time with the music.
"Teachers can teach the steps of a dance, but the judges are all looking more for the execution and for the dancers to be very structured and precise."
The competitors are broken into age groups for their performances with three rounds possible before someone is named world champion.
"Competitors can dance in three different rounds if they are lucky," Donna said. "After each of the first two rounds cuts are made so it is a matter of being above the cutline."
Colin competes at various competitions all over the U.S. "There are smaller dancing competitions happening all the time," he said. "I am pretty busy during my free time working on my dancing." Kaster said he practices at least once a day and as the competition gets closer he will practice two times a day.
Fleck and Kaster have known each other for a long time through Irish dancing competitions.
In addition to Colin's competitions, he also toured with Lord of the Dance last year and he said he hopes to get that opportunity again. "I am sure I will be involved with Irish dancing in some form for the rest of my life," he said, "But I would love to go on tour with Lord of the Dance for a year or two after I graduate.
"Down the road I have thought about maybe opening my own school to teach Irish dancing, but I am not really sure just yet."