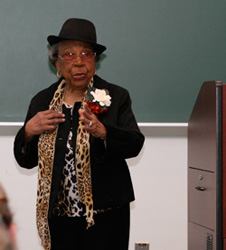 Hana Stith knows the definition of Little Giant. She is one herself.
Barely able to see over the podium in Lovell Lecture Room Stith said, "I'm a short lady, but don't let that fool you."
The MXIBS presented the Jasmine Robinson Pioneer Award Thursday evening to Stith. She is the third recipient of the award which was established by the MXIBS to celebrate the achievements of women who, like Jasmine Robinson herself, have made significant contributions to their field and have shaped and nurtured the lives of African Americans.
Stith, President of the African/African American Historical Society and curator of its Museum, was born in Fort Wayne, IN. She spent 36 years teaching there. She earned both her bachelor's and master's degrees there and was certified by Purdue University in guidance and counseling. She retired from teaching in 1996 and became a docent for the Lincoln Museum as well as a board member of the local NAACP chapter. She co-founded the African/African American Historical Society in 1998. After the museum opened on February 1, 2000, it soon became recognized as the premiere museum of African American history in Indiana.
In her remarks to the audience, she said "Make no mistake, I am a proud black lady. I have always been a proud black lady, and I will die a proud black lady."
Raised by a strong mom, Stith was told to be proud of whoever she became. "My mom loved me. She made $8 a week cleaning in a hotel," Stith said. "She would bring home the newspapers people had left behind and say 'read, children, read.' Education is so important. It has a way of forming the minds of children and making what they are.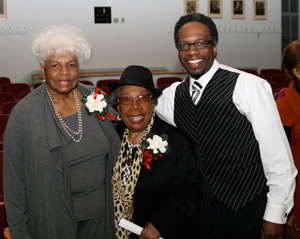 "Live your life so when your last days are here you can say 'my life has been very worthwhile.'"
MXIBS Director Dr. Tim Lake, grew up near Stith. He thanked her for the work she's done, the love she has given, and the sacrifices she has made so that "we could have a better life."
"Ms. Stith lived, worked, and loved in the community," Lake added. "She was a giant, an icon in Fort Wayne and in Indiana. I never realized she was short because she was always a giant to me."
Photos - above left: Hana Stith, right: (l to r) Jasmine Robinson, Hana Stith, Dr. Tim Lake