One of the primary goals of Wabash's strategic plan, "The Liberal Arts at Wabash College: Serving the Needs of the Country," is to "attract, support, retain, and prepare qualified young men who want to be taught by Wabash faculty and whom Wabash faculty want to teach."
Thus far in the admissions recruiting cycle for the Class of 2013 that will enroll in August, Wabash has received a record, 1,500 applications for spots in the 250-member freshman class. Wabash's mission and core values resonate with high school students and their families, and the College's long-standing tradition of making a Wabash education possible for qualified students regardless of their financial circumstances is especially appealing in today's tough economic times.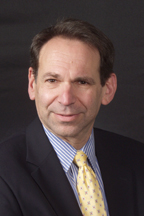 Dean of Admissions and Financial Aid Steve Klein and his staff have made little note of the record-setting number of applications.
"It's important to get a sufficient number of applicants to work with, but our work is far from done," said Dean Klein. "Given the economic downturn and lots of unknowns in terms of how families are going to make decisions, we are looking forward with concern about the challenges that lie ahead."
Klein points out that in past recessions, more high school students choose to go to public universities and community colleges.
"If people are just going to make a decision on finances alone, they are all going to go to public universities and community colleges," said Klein. "But private colleges have added value and it's up to each of us to make our best case to those families to stress that this is an investment in the future that will pay dividends over a lifetime. It's not like a car that you'll drive for four years and be done with it."
Wabash's value lies in the close, personal relationships students form with talented faculty, relationships that are further enhanced when students and teachers travel on immersion learning trips or when students collaborate with faculty on research.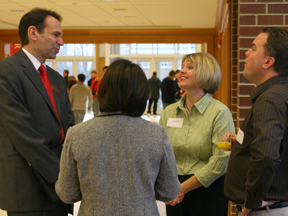 The 116th Honor Scholarship Weekend is March 20-22 and Dean Klein hopes that more than 400 of Wabash's applicants will attend. Typically about two-thirds of the students who attend Honors Weekend will enroll in the fall.
Financial aid and scholarships will be especially important this year. But contrary to belief by many Wabash alumni and friends, the Wabash financial aid system isn't an endless stream of cash. Alumni and friends involved in recruiting young men for the Class of 2013 need to know fact from fiction about the financial aid and scholarships Wabash offers so that the message is consistent.
We sat down with Director of Financial Aid Clint Gasaway '86 to get the facts about financial aid. Here's what he told us:
Q: What is the average amount of Wabash need-based grant or scholarship provided to students?
A: It is best not to talk to prospective students and their families about the average amount of Wabash need-based grants or scholarships because most families and students are not average. If the family is very needy and the student is an outstanding academically, you may be under-representing what Wabash will provide. Some students are below average academically and families, because of their income, may be expected to contribute most of the cost of a Wabash education. In that case you are creating a situation where expectations will not be met and the students and families will be disappointed.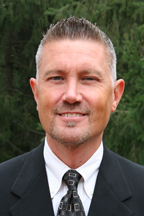 Q: Is there as much financial aid available to current Wabash students as there was when I was at Wabash?
A: That depends on when you were a student at Wabash. The College has become more selective over time and our merit-based scholarship programs have evolved. Consequently, depending on when you attended Wabash, our scholarship and need-based aid program might be very different than what you experienced.
Q: Does Wabash still meet 100% of every admitted student's financial need?
A: Yes, but only as long as the student files the financial aid applications on time each year. We use the CSS/PROFILE Application and the Free Application for Federal Student Aid (FAFSA).
Q: Does Wabash negotiate on merit-based scholarships or need-based aid?
A: No, we do not negotiate on merit-based scholarships or need-based aid. However, sometimes families do not provide us with special circumstances when they apply for aid that we can take into consideration with additional documentation. For example, if a parent loses their job after they file for aid they can document the financial impact of their situation, and we can consider the student for additional assistance.
Q: Does Wabash have enough assistance to provide families?
A: We are not certain at this point. The downturn in the market and the impact on the endowment will have a significant impact on the resources we have available to provide to families. We are cutting back on the merit-based scholarships in order to try to maintain our commitment to meeting the demonstrated financial need of all admitted students. It is likely that we will not have enough assistance to help all families. The families that have missed the financial aid application deadline of March 1 may not have their need fully met.