Much is made and discussed when it comes to Wabash College's Mission Statement's first charge to 'think critically.' But the other three standards are equally important to act responsibly, lead effectively, and live humanely.
More than 30 Wabash men will join members of Crawfordsville's First Christian Church for a group of 45 headed to New Orleans early Sunday morning. The number of Wabash students has doubled since last spring break when 14 men traveled south.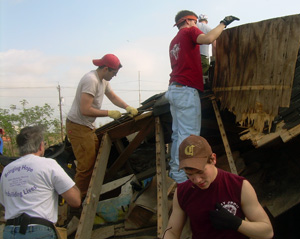 "There remains astonishing need in New Orleans three-and-one-half years after Hurricane Katrina," said Wabash Professor of Religion Jon Baer. "Given our very positive experience last year, it made sense to go back. The need remains overwhelming, and it is clear that we can make a contribution that will improve people's lives."
Last year the group stayed at Westside Mission, a Christian ministry that rebuilds homes destroyed by Katrina free of charge with volunteer labor and supplies purchased with donations. The Wabash men joined five members of the local church to help rebuild three homes which are now occupied. The Wabash/Crawfordsville men will stay in the same mission again this year and work on two homes.
Baer believes the trip puts the College's mission statement into real and practical practice. "I view this as a way to serve God and neighbor, while also offering our students a mission and service opportunity over spring break that complements our immersion trips and contributes to our mission statement."
The Religion Professor also finds gratitude in the student's reactions to the experience.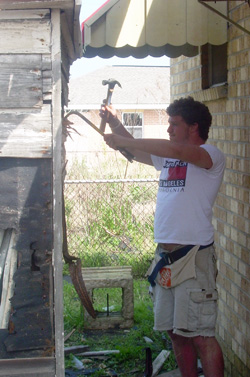 "They will take away a wide variety of experiences, lessons, and memories," Baer said. "Students last year were shocked at the devastation that remained in New Orleans; humbled and filled with gratitude for the blessings they have in their lives that they might take for granted; excited for the opportunity to make a concrete difference in people's lives. They came away with a terrific sense of camaraderie, the sense that we came together from across campus and across Crawfordsville with a common goal and we united as one to meet that goal.
"They worked tremendously hard and had real satisfaction in the work. They came away spiritually enriched. They returned with a much greater sense of poverty and hardship, with a deeper appreciation for the vagaries and vicissitudes of life. They returned with a deeper sense of what it means to love one's neighbor. Several students told me that their time in New Orleans was one of the most important experiences they had had in their time at Wabash."
The group will leave from campus at 5:30 a.m. Sunday and drive the 15 hours straight to New Orleans. They will rise between 6-6:30 a.m. each day to begin their work and quit about 5 p.m. each evening. After time to clean up from a hard day's work they will eat at the mission and take a night or two in New Orleans while working and staying in the Crescent City.
The group will return late Saturday night.