While some college students prepare for spring break in Daytona, Cancun, or maybe South Padre Island, Wabash students will visit Spain, France, Italy, and Belgium. Wabash men will sing in Pittsburgh and Philadelphia and do mission work in New Orleans and Africa.
Spring Break, which begins Friday, March 6, means travel for nearly 200 Wabash men. Traditionally immersion learning trips dominate the calendar, but this year nearly as many Wabash students will be traveling for other reasons as well. And part of the spring travel tradition is documenting the trips. Be sure to check the Wabash website throughout the week, each of the trips will be writing blogs about their learning and cultural experiences.
Immersion learning takes students out of the classroom and provides an eye-witness account to the history and culture they study. The cost of such trips is part of each students' tuition. In most cases, students need only pocket money.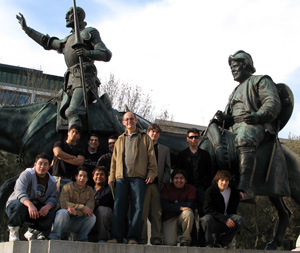 "Immersion learning is one of the important ways a Wabash liberal arts education happens," said Dean of College Gary Phillips. "Embedded in a course, the immersion trip becomes an extension of the face-to-face experience students have with faculty and each other, the hallmark of a Wabash education.
This year's immersion trips include a study of the politics of the European Union in Belgium and France, study of St. Francis of Assisi in Italy, aquatic biology and ecology in Belize, the Baroque Era in Spain, the art of New York City, the Expressive Culture of the American South, and marketing in Indiana.
"At its best the immersion trip functions as a living laboratory for the ideas, questions, and issue pursued within a course but now explored outside the confines of Baxter, Hayes and Center halls, away from Crawfordsville, perhaps on another continent," Phillips said. "In the Galapagos, Paris, Florence, Selma Alabama, New York City, immersion learning is a reaching out, an encounter with the world in all of its stunning differences that makes a difference in the ways Wabash students come to understand themselves and what makes for critical thinking , responsible action, leadership, and humane living.
"Immersion learning was made for Wabash and Wabash for it."
Besides the immersion learning trips, the Glee Club will perform and travel through Pennsylvania. Wabash men will do mission work in Botswana, Africa. And more than 30 Wabash men will travel to New Orleans for the second straight year to continue Hurricane Katrina cleanup efforts. (See related stories, linked above.)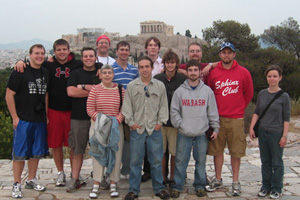 Wabash professors embrace the concept of taking students to history, not just lecturing about it.
Dr. Stephen Morillo and three of his colleagues will lead a group to Spain for interdisciplinary study of the Baroque era. "Much of that happened right in Madrid," Morillo said. "That was the seat of the Spanish Empire and therefore the experience, the direct experience of the architecture and art and the settings of Baroque literature and politics and so forth will add a dimension to the students' understanding of how this stuff works that you can't really experience except in person."
Morillo is joined by professors Dan Rogers and Isabel Jaen-Portillo from the Modern Languages Department, as well as psychology professor Preston Bost.
Dr. Bill Cook, known as an expert on the life of St. Francis of Assisi, will lead a class to Italy. "The course has a visual arts component," he said. "One of the things we're interested in is finding out is how his life was interpreted visually immediately following his death. Obviously, you can look at pictures and paintings; there are a great deal of those on the web. But especially with the stationary ones, the sense of space makes a great deal of difference."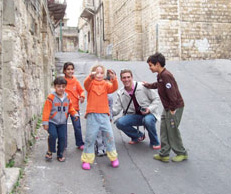 Dr. David Timmerman and Dr. Tim Lake will lead a group of students to our country's south. "In our case we will be seeing African American Rhetoric and Expressive Culture (the name of the class) first hand as we take part in an anniversary celebration march across the Edmund Pettus Bridge in Selma, Alabama, where peaceful civil rights marchers were brutally attacked on Bloody Sunday in 1965, Dexter Avenue Baptist Church which was King's Church in Montgomery, and the Lorraine Motel/National Civil Rights Museum, where King was assassinated."
Economics Professor Peter Mikek and Political Science Professor Ethan Hollander will take a group of students to the heart of the European Union to learn more about the mainland's politics and economics. That class will visit Brussels, Belgium, and Frankfurt, Germany.
Art Professor Doug Calisch will join colleagues taking art majors to New York City to see the city's great art. Biology Professor Eric Wetzel will lead students on a study trip to Belize.
The traditional spring marketing immersion trip, now part of the Wabash Business Leadership Program, concentrates on business/marketing principles in a classroom setting in Indianapolis. The group has speakers and makes a couple of trips around Indiana to visit with Wabash alumni in marketing and advertising careers.
In photos from 2008 trips: Upper right, Professor Gilberto Gomez had a class in Spain. Professor Leslie Day and her Classics group in front of the Parthenon in Greece. And lower right, students interacted with children during a trip to Israel.