Frank Reich, current quarterback coach for the Indianapolis Colts, came to Wabash Feb. 26 with an outstanding NFL resume. Reich played for the Buffalo Bills, the Detroit Lions, the Carolina Panthers, and the New York Jets. He is most known for his career as a backup to Jim Kelly with the Buffalo Bills, where he was the quarterback in what is often called the "Greatest Comeback in NFL History."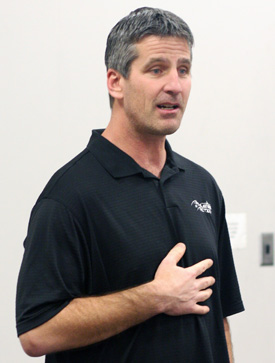 Now Reich is a motivational speaker using the experiences he's had to spread the word of God. Before moving to Indianapolis, Reich was a Presbyterian Pastor.
Reich began by comically thanking Micah Lembke '11, who gave his introduction, for not mentioning his NFL record of the most fumbles in a Super Bowl. Reich explained that although sports aren't everything, it has brought about a lot of the best experiences he has had in his life. His love for sports led him coaching.
Reich got right to business about faith in God and practicing one's faith every day not just on Sundays. "I believe it takes great courage, especially for you today in this society to live in authentic courageous faith."
Reich said his favorite story about courage dealt with a Preacher named Peter Cartwright. Reich admired the courage Cartwright had preaching the word of God in a bold way. The story went that when Cartwright was about to give a speech, he was informed to tone down his sermon because President Andrew Jackson was going to be there. When he got up to speak he said, "It has brought to my attention that President Andrew Jackson is here today, and I've been told to keep my remarks guarded and inoffensive. What I have to say to the President of the United States is this: If he does not repent of his sin he will go to Hell." After the sermon was over the President sought out the Cartwright and Jackson said, 'Sir if I had an army of men like you I could whip the world.'
Reich said that story reflects his style. "I don't know about you but that's the kind of man I want to be. I'm not saying necessarily pounding people over the head with the Bible. What I'm more interested in is the heart behind that kind of action, the courage that is behind that kind of a man who would do that."
Reich's speech became focused on the book of Joshua in the Bible. Reich combined football with faith when he explained his underlying principles of biblical courage, and not to be afraid. The first is that Joshua had a clear assignment from God; he knew exactly what to do. Reich encouraged facing any fears and problems, to keep your mission in sight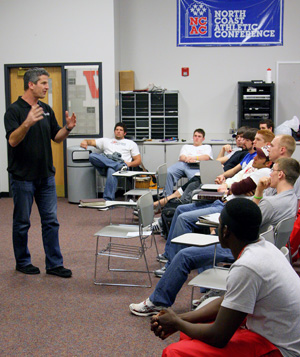 "As a former football player I can identify with this when I was a quarterback in the NFL. You know when you drop back in the pocket it's not exactly friendly back there. There are guys on the other side who are much bigger, meaner and tougher than I am. The defensive linemen want to not only hit the quarterback but hurt the quarterback. I'm standing there and guess what, I 'm not even looking at those guys, I don't have time to bother with those guys. I'm looking down the field because I've got something I've been called to do. I got an assignment that I've been given. That's my focus. That's where my heart is. That's where my mind is."
Reich ended stressing the importance of meditating daily. He finished with a story of a Bible study he led. The story went that he spent an hour with a woman who had no knowledge of football and taught her a play in an hour one day, and reviewed the play every day a couple minutes for the next week. Reich shared the same play at his bible study meeting. After a few minutes, he collected the play back from the people and questioned the content of the play. The only one to answer was the lady he had met with throughout the week.
To the astonishment of the group and her husband, she even drew out the play on an easel. While everyone was bewildered, Reich explained the point to his antics. He said it was an example of what God can do with the power of his holy spirit in the bible. If one can study his word just a little bit a day, we can be like the lady at the easel with courage we never know one had."