Director of Alumni Affairs Tom Runge thought it was time to brighten the mood. "We've had so many heavy talks this year, I've taken it upon myself to lighten it up a bit," he said, beginning his Thursday Chapel Talk.
Runge '71 spent his time in the Chapel using the movie Top Gun to talk about its truths and falsehoods and at the same time reflect on his career as a fighter pilot. The analogies at the end proved the perfect parallel between fighter pilot school and becoming a Wabash man.
Check out the podcast of Runge's Chapel Talk by clicking here.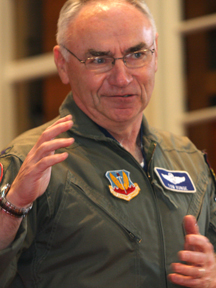 Resplendent in his fighter pilot jump suit, albeit a few cracks about a girdle to make it fit, Runge launched into the definition of a flight pilot using current events as his descriptor.
"There are many different definitions of a fighter pilot," he offered. "But think of the Hudson River. Think of coming in with the wings perfectly level. Think of a man who walks through the plane twice to make sure everyone is out."
Runge was talking about US Airways pilot Capt. Chesley "Sully" Sullenberger who successfully landed a commercial jet in New York's Hudson River Feb. 5, saving the lives of all onboard. Sullenberger was a fighter pilot before retirement from the United States Air Force.
His talk described fighter pilots as 'over-the-top" kind of guys, big and strong, confident, and dedicated. He poked fun at the move Top Gun and identified parts which are very realistic and other parts that were "just made up."
He said the most realistic scene was the Officer's Club "where we all would get together and talk about everything, but never politics." Most of the Top Gun flight scenes were fake, Runge said, but the emphasis on the importance of "team" was quite real.
"When you fly as a team you're much more powerful and much less vulnerable," he said. "You could say that about life too."
He talked of the physical challenge of flying and dealing with the G-forces of gravity.
But he gripped the Chapel audience when talking about a summary of fighter pilot training school. He described it as "not for everyone, you have to be willing to work hard, it's very competitive, pledgeship is driven by upper classmen, learning happens everywhere, and at commencement they challenge you to go out and change the world."
Runge grinned, looked up and closed. "Does that sound familiar? It should."