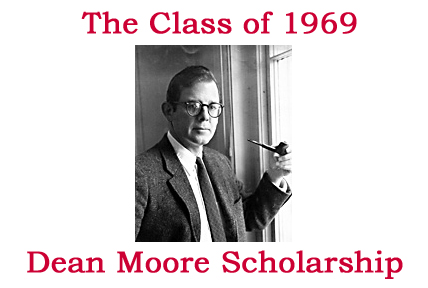 The Class of 1969, as a part of their run-up to their 40th reunion at the Big Bash 2009, has established the  Dean Moore Scholarship Fund.
Many class members recall the impact of Dean Norm Moore's "pinball fund".  It is in that spirit that the Class of 1969 is establishing this scholarship fund.  To get the effort kick-started, class members David Pancost, Fred Wilson, John C. Schroeder, Jack Brown, and Ken Crawford (reunion chairman) have challenged their classmates and backed that up with a pledge to match every gift up to the first $100,000!  That's right, those five alumni will match, dollar for dollar, the gifts of their classmates.  For example, if a member of the Class of 1969 makes a $1,000 gift to the scholarship fund, those guys will kick in a matching $1,000.
But that's not all.  The class hopes to reach $600,000 in the fund by the time of their 45th reunion in 2014!