It wasn't quite the search for the Holy Grail, but Wabash music professor Lawrence Bennett went to extremes to bring a 268-year-old opera back to life.
"Hypermnestra," which will be presented on Sunday, Feb. 22 at 3 p.m. as part of Wabash College's Visiting Artist Series, had been sleeping for more than two and a half centuries in Meiningen, Germany.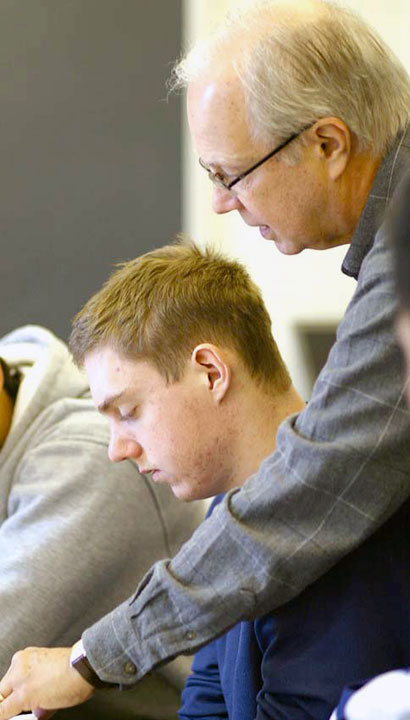 Bennett was a Fulbright Scholar in 1970 when he learned that a German opera, written by Ignaz Holzbauer, was locked away in the library in Meiningen.
Holzbauer was a friend and respected colleague of Wolfgang Amadeus Mozart and that connection intrigued Bennett.
Unfortunately for Bennett, Meiningen was then part of East Germany and isolated from much of the world. His
attempts to be granted entry to the country to study Holzbauer's music proved futile.
"I had given up on ever getting to see it," he said. "I talked to the head of music at the library in Meiningen, but she said there was nothing she could do to help. She was not permitted to make a copy and Westerners were not welcome (in East Germany)."
Twenty-five years passed and world politics changed. Bennett decided to take another stab at it. He wrote
the German Academic Exchange and explained his interest in 1995. "I had just gotten the job at Wabash College to rebuild the music department," Bennett said. "I was supposed to be at Wabash in August and here I was going to Germany in June because I got the grant. I'm sure I scared Wabash to death."
However, his trip to Germany was smooth sailing. "I got off the train there and it was, 'My God, this place does exist.'
"The library was in a castle. I learned I was the first American to enter that library. I later published three articles about that collection."
Bennett explained that Holzbauer was from Vienna (Austria) and he was educated in Italy. The operas at the time mostly were written in Italian. "It was the style of the day," Bennett said.
However, he was commissioned to write a German opera, one that is believed to be the first composed for Vienna. "It was a terrific piece," Bennett said. "Mozart said of Holzbauer that he wrote 'with such fire.' "
The opera is about a Greek myth. Hypermnestra's father learned through an oracle that came in a dream that "a son-in-law will kill you." Unfortunately, the father had 50 potential son-in-laws. The father instructed all his daughters to kill their bride grooms and 49 followed orders. Hypermnestra, however, was in love with her future husband. She had to make a decision whether to respect her duty to her father or to follow her heart.
"Hypermnestra," which debuted in Vienna in 1741, will be presented for the first time since then in the Salter Hall Fine Arts Center. It will be performed on period instruments by the Baroque Orchestra and singers from Indiana University.
The opera is free and open to the public, but tickets are required. Tickets can be obtained by calling the Fine Arts Center Box Office at 361-6411.
"We will do it in German," Bennett said. "Above the 27-piece orchestra, the translation will be given on
a big screen."
Bennett edited the opera and sought help from Stanley Ritchie, who is the director of the baroque orchestra at Indiana University's Jacobs School of Music, and Michael McCraw, the director of the Early Music Institute at Indiana University.
"There has been a lot to do," McCraw said. "The singers were the first job. We wanted to open the role not only to singers of early music, but singers in our vocal department as well.
"We had to fill all the roles and get all the materials in order and printed. We have been slowly but surely putting it together. Now we are at the run-through stage.
"The opera has everything. First of all, the music is quite good, and some of it is extraordinary. It has all the things you would expect like jilted love and revenge."
"The singers will all be IU graduate students," Bennett said. "Some of them are very good. The opera, which was written to cover three-and-a-half to four hours, has been cut to about two hours."
Bennett will give a brief talk at 2:30 p.m. before the opera to update the audience on information concerning
the performance.
A second performance will be held March 1 at Auer Concert Hall at Indiana University.
Bennett said it was only natural that the first performance be held at Wabash. "It was my baby," he said. "I found it. It's sort of like archeology. There is a lot of excitement in redisrediscovering it."
McCraw said it, indeed, is Bennett's baby. "He is terribly excited," McCraw said. "But we in the early music industry also are very excited and very proud."
Although "Hypermnestra" is scheduled for two performances, McCraw doesn't expect the opera to go back to sleep for another couple of centuries.
"I think most likely you will see it in Vienna," McCraw said. "Somebody there has got to be interested.