It's time to regain the 'Wabash swagger' suggested Director of Public Affairs Jim Amidon in his Thursday Chapel Talk. Following a tough fall, the winter doldrums, and with spring break a month away, it's time Wabash got its swagger back.
Amidon's full Chapel Talk is available on iTunesU.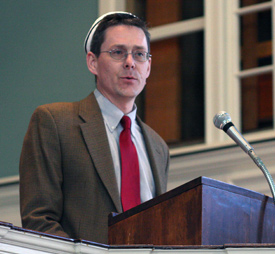 Amidon '87 started by talking about Thursday's Chapel Talks and the relatively small turnout Thursday and in recent weeks. "For one hour we're supposed to put together our petty differences aside and gather here," he said. "It takes effort to build and sustain a community. You can't assume Wabash tradition will continue. It takes effort."
He suggested Chapel as a good starting point to change campus atmosphere. He encouraged those in attendance to bring four people to Chapel next week and the week after.
He then zeroed in on the problems of fall with an admonishment to move on. "It's time to turn the page. It's time to stop the whining and complaining and turn the page. We must move on."
He said no one is forgetting or downplaying the death of a student and beloved professor, but that the time comes to move on individually and as an institution.
"It's time to put some effort into Old Wabash. It's time to get our swagger back. To me the Wabash swagger is a quiet confidence. Our swagger is a passionate and intense devotion to Wabash – in good times and in bad.