Wabash alumni took the lead Monday in telling students and parents attending the Top Ten Scholarship Visit Day about the Wabash College experience. Students  ranked in the top ten of their high school class are invited to the special day with a guaranteed scholarship of $15,000 annually toward tuition.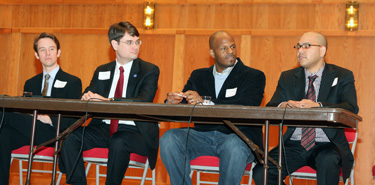 "It sounds like we're selling the place, but we're not," Reese Hamilton '97 told the parents. "We're just telling you the way it is and the way it was for us."
See a photo album from the day's activities here.
Hamilton joined four other alums on a panel which spoke to the students' parents. The group talked about how much, or how little, they understood the liberal arts before choosing Wabash. They discussed the impact Wabash has had on their careers and what the College means to them today. 
Hamilton is a process engineer for Mead Nutritional in Evansville. He was joined by Texas Deputy Solicitor General Kris Monson '98; Aaron Warnke '98, owner of Panagea Consulting, Atlanta, Ga.; Maury Raycroft '03, a graduate student in biology at Notre Dame; and President/CEO of Cancer Treatment Centers of America, Tulsa, OK., Steve Mackin '98.
President Patrick White welcomed the students and challenged them to consider a Wabash education and where it can take them in life. He introduced Scott Smalstig '88 for the keynote address.
"This place can prepare you for anything you want to do," Smalstig told students and parents. "The liberal arts teach you how to learn as much as anything. You can apply that to whatever field that you go into."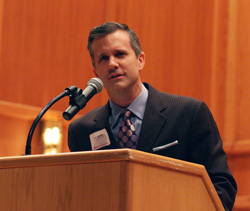 Smalstig, President of Joseph David Advertising, spent most of his time showing how the College mission statement can help a man center his life on principles. 
"This place truly has a center," he said. "It truly has a core. It has something you can take and apply to anything in life. The mission statement — thinking critically, acting responsibly, leading effectively, and living humanely — is something you can take with you to your family life, church life, or whatever you are doing. It's important that kids understand this place is a little bit different."
The alumni panel meeting with made an impression about the College's lasting influence on the more than 70 young men in attendance. Several alumni mentioned how they maintain contact today with fraternity brothers, college friends, faculty, and staff.
The morning panel included Josh Robinson '98, a pediatric cardiologist at Children's Hospital in Boston; Josh Tatum '03, a clerk with the Indiana Supreme Court; Theo Johnson '98, Therapeutic Consultant for Cyberonics in Dallas, Tx.; and Marcus Doshi, owner of Doshi Lighting Design, New York.
The alumni panelists talked about how their classmates all majored in varied fields. Today those same Wabash men are in successful careers made possible by the liberal arts more than their particular college major.
For the alumni, returning to the campus and being asked to talk to future students is a gratifying experience.
"I enjoy it because I want to pass it on to others at least as well or better than it was passed on to me," Smalstig said. "This place had a serious impact on me. Life comes down to a few moments and one of those moments is choosing your college. Choosing Wabash has made a lot of difference for me in my life. So when you're thinking what it was like to be a 17-year-old and what your parents are telling you and what everybody else is telling you, I just want to be one of those voices they listen to and that they should pick Wabash College."
In photos: Top right, from the left - Robinson, Tatum, Johnson, Doshi. Lower left, Smalstig.