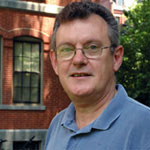 Wabash College's Classics Department will host Richard Thomas of Harvard University, who will lecture on "What is a Classic? Revisited: Eliot, Graves, Auden and Lowell." His talk will take place at 8 p.m., Wednesday, January 21, in Lovell Lecture Room (101) in Baxter Hall.
Thomas, professor of Greek and Latin at Harvard University, was educated at the University of Auckland and the University of Michigan. He has taught at the University of Cincinnati, Cornell University, and has been professor of Greek and Latin at Harvard since 1987.  He was visiting professor of Latin at the University of Venice in the spring of 1991.
He is currently director of graduate studies in the department of the classics and has served as director of undergraduate studies and department chair. He is co-chair of the seminar on "The Civilizations of Ancient Greece and Rome," in Harvard's Humanities Center, and also co-chairs the Faculty of Arts and Sciences' Standing Committee on Public Service. He has served as director of the American Philological Association and as trustee and director of the Vergilian Society and has since 2001 been a trustee of the Loeb Classical Library.
His publications include a monograph Lands and Peoples in Roman Poetry: The Ethnographical Tradition, a two-volume text and commentary on Virgil's Georgics, a collection of his articles on the subject of Virgilian intertextuality, Reading Virgil and his Texts, a study of the ideological reception of Virgil from its beginnings through the 20th century, Virgil and the Augustan Reception, and two co-edited books to which he also contributed with Charles Martindale, Classics and the Uses of Reception, and with Catharine Mason, The Performance Artistry of Bob Dylan, Oral Tradition 22.1. He also co-edited and contributed to Widener Library: Voices from the Stacks, a special issue of Harvard Library Bulletin (1996). He has published articles, notes and reviews on Hellenistic Greek poetry, on Roman poetry, particularly of the Republican and Augustan periods, on the reception of classical literature, and on the lyrics of Bob Dylan.
His talk is free and open to the public.