Wabash, Co-Motion Help Family Crisis Shelter
by Jim Amidon • December 19, 2008

Share:
Four members of the Wabash Sphinx Club tried to improve the holidays for the women and children living in the Montgomery County Family Crisis Shelter. As part of its annual Co-Motion fund-raising drive, the Club presented checks totaling nearly $1,200 to the shelter, which houses victims of domestic violence.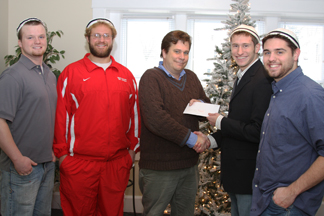 Sphinx Club President Kyle Hayes and member Elliott Allen spearheaded the Co-Motion effort in 2008. Wabash students and Sphinx Club members Kevin Long and Denver Wade were also on hand for this year's check presentation.
Co-Motion is a joint fund-raising competition between students, faculty, staff, and alumni at both Wabash and DePauw, and is held annually in the weeks leading up to the Monon Bell Classic.
The Sphinx Club also sent a check for just over $1,000 to the Julian Center, an Indianapolis domestic violence shelter. Meanwhile, DePauw's funds are split evenly between a Putnam County shelter and the Julian Center.
The idea for Co-Motion was thought up by Wabash alumnus Bill Padgett '92, an Indianapolis attorney with Barnes and Thornburg. Padgett is on the board for the Julian Center and does pro bono legal work for victims of domestic violence.
"The idea was to harness all of the excitement and energy associated with Monon Bell and focus some of it on raising money for the shelters, and raising awareness of domestic violence in our communities," said Padgett.
A number of Wabash student organizations provide service work to the Montgomery County Family Crisis Shelter. Each year, it's a regular stop for freshman community service projects, while other groups — Alpha Phi Omega, the Sphinx Club, and fraternities — have volunteered a helping hand throughout the last decade.
The Family Crisis Shelter serves several counties, including Montgomery County. According to Andy Ford, who is the shelter's executive director, the local shelter will house well over 100 families every year. Two significant factory closings in Crawfordsville — and the loss of 600 jobs — will put added stress on the Family Crisis Shelter in early 2009.
Over the last three years, the Sphinx Club — and the entire Wabash Community — have donated over $9,500 to the Montgomery County Family Crisis Shelter.