Baer, Porter Granted Tenure
• December 19, 2008

Share:
Wabash President Patrick White and Dean of the College Gary Phillips have announced that professors Jonathan R. Baer and Lon Alan Porter, Jr. have been granted tenure.
Jon Baer will receive promotion to Associate Professor of Religion. Baer came to Wabash in 2002 after completing his undergraduate studies at Duke University and his master's degree and Ph.D. from Yale University.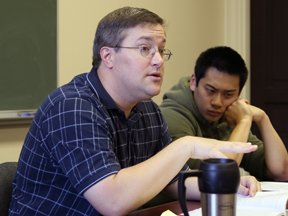 "To students, faculty and staff, Jon Baer exemplifies the best of Wabash teaching: his engagement with students in Center Hall, Sparks Center, and the Allen Center; the high standards he expects students to uphold in their critical encounter with religion and religious traditions not their own; and the way he models careful listening and respectful critique," said Dean Phillips.
Baer's research specialty is American church history. In addition to teaching, Baer has been an active participant on campus as a Moot Court Judge, Homecoming Spirit Judge, and leading an Immersion Learning mission trip to help victims of Hurricane Katrina in Louisiana. He's been involved in a range of campus committees, including serving as chair of the Faculty Athletics Committee. Baer has worked with the Admissions Office in on- and off-campus recruiting events.
"Jon shows Wabash students how scholarship, citizenship, and Christian commitment combined are a hands-on, lived matter, as for example when he leads students on immersion trips to help rebuild Katrina-ravaged New Orleans," added Phillips. "Jon continues to enlarge a tradition of excellence in the Religion program that would make [his Wabash colleague] Bill Placher proud."
"I found out on Friday from Pat White and is it has been bittersweet because of Bill Placher's passing," said Baer. "I miss him a great deal and I wish he were here to share in it."
Placher, a 34-year veteran teacher of philosophy and religion at Wabash, passed away November 30.
"Of course, I'm deeply gratified because I love this place," said Baer. "I love the students… I believe this is a place where I can continue to give of myself to these students and make some small difference in their lives, and that's what it's all about."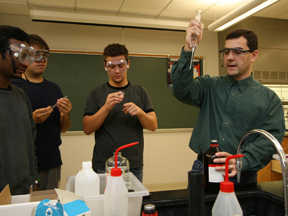 Lon Porter will receive promotion to Associate Professor of Chemistry. Porter earned his bachelor's degree from the University of Houston and his Ph.D. from Purdue University. He began teaching at Wabash in the fall of 2003.
"Lon Porter brings excellence to everything he does at the College, especially to his teaching in the classroom, in the lab, to the Chemistry Club, and, yes, even to his beloved Dork Club," said Dean Phillips of Porter's promotion. "His passion and patience for exacting the best earns him the high praise and respect of students and faculty colleagues alike."
Porter is best known across campus for his research in nanotechnology, and specifically with experiments using silicon chips for medicinal use within the body. He has received National Science Foundation funding that allows him to hire student interns so assist him in his research.
"He is tireless and successful in finding ways to engage students in cutting-edge research in the realm of nanotechnology, and he shows Wabash men by his mentorship what it means to be a gentleman, responsible scientist, and citizen," added Dean Phillips.
"Lon continues Wabash's tradition of producing liberally educated scientists who head on into graduate school and industry and make a difference."
Professor Porter has encouraged his students to present their findings at the College's annual Celebration of Student Research, Scholarship, and Creative Work. He's also traveled with his students to the American Chemical Society's annual meetings, where he and the students present their research findings.
While a graduate of a major university (Houston), Porter truly understands the liberal arts approach to science at Wabash.
"I was in the honors college at Houston, which was like a small school in the middle of a larger university, so I got really used to walking in and chatting with professors, even if it wasn't about a course," Porter said in an earlier interview.
In addition, Porter works hard with the Admissions Office in recruiting efforts. His lab is a regular stop for prospective science students during visit days, and he routinely works with groups of high school students during Wabash's Top 10 Scholarship Visit Day.
Porter is a faculty sponsor of the College-wide "Dork Club," which is a club for students interested in video games and board games. His wildly popular Freshman Tutorial this year focused on "Survival Horror." In the course, students hosted a survival horror film festival, and Porter took the students on tours of great haunted houses in Indianapolis.
"When I got the job at Wabash, my wife and I moved to a house on Main Street in Crawfordsville. We wanted to be close so we could be part of the community, and we love it here."
The promotions to Associate Professor for both Baer and Porter are effective July 1, 2009.