Online Wabash Magazine Provides Voices, Video
by Jim Amidon • December 9, 2008

Share:
The fall issue of Wabash Magazine, "School's Out," is reaching mailboxes around the country this week. The stunning issue features students, faculty, staff, and alumni sharing stories about how they spent their summers — at work, in study, and at play.
While Professor David Krohne's photographs and Professor Dan Rogers' essay perfectly illustrate how students in the Wabash Summer Study in Ecuador immersed themselves in language, culture, and evolution, the online edition of Wabash Magazine has the students talking about their own experiences.
Indeed, the online edition of Wabash Magazine provides the actual voices of the many contributors to the amazing print edition.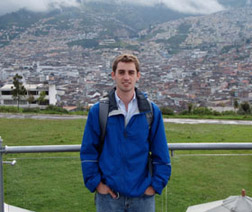 Economics major John Dewart '10 (left) introduces us to the people of Ecuador in audio, video, and still photographs.
Junior biology major Ken Engle shares with us his thoughts about the Rain Forest, the Galapagos Islands, and the poverty he encountered in Quito.
Senior biology major Andrew Hasty explains what it's like to live with an Ecuadorian host family.
Kyle Hayes, a senior pre-med biology major, gives listeners a sense of what it's like to study the most diverse biological ecosystem in the world.
And biology major Patrick Murphy '09 introduces folks to his adopted host "Mom" and his views on conservation.
Also in the new online edition of Wabash Magazine are:
A summary of Wabash's NCAC Championship football season.
Art Professor Doug Calisch explaining his inspiration for his stunning photography and found object sculptures.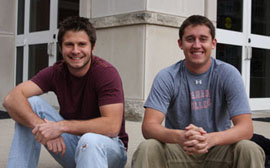 Video links for a new campus video tour narrated by sophomores Jake German and Jake German (right), as well as a new video German and Pat Patterson created to provide interview advice for fellow students.
Plus online readers can share stories about how they spent their summer and earn a chance to win a Wabash College Bookstore giftcard!