Monon Prediction: A Great Game
by Jim Amidon • November 12, 2008

Share:
Weather forecasters are calling for cold temperatures and wet conditions when Wabash College hosts DePauw University in the 115th Monon Bell Classic Saturday at 1:00 p.m. at Byron P. Hollett Little Giant Stadium.
Football forecasters are predicting a classic matchup between two high-powered offenses with experienced quarterbacks, deep-threat receivers, and hard-hitting defenses.
The two schools' alumni offices are predicting big crowds and lots of excitement at more than 60 telecast parties stretching coast to coast where thousands of alumni will turn out to watch the HDNet telecast of the Monon Bell game.
And the two schools' presidents, DePauw's Brian Casey and Wabash's Pat White, have issued a joint statement calling on all fans to respect and take care of one another, while cherishing the nation's finest small college football rivalry.
At precisely 1:07, the battle for the Monon Bell will be on. DePauw will seek to retain possession for a second straight year of the 300-pound steam locomotive's bell, which has served as the victory prize since 1932. Wabash hopes to win the game to post an undefeated regular season and advance into the first round of the Division III playoffs with a full head of steam.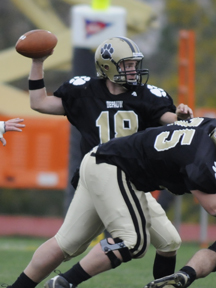 Weather could be a factor, but recent Bell games have been played in conditions ranging from snow to rain and from freezing temps to balmy 70-degree days. Cold, damp weather is likely, though the field at Hollett Little Giant Stadium is in amazingly good shape for so late in the year.
DePauw (7-2; 5-2 in the SCAC) would likely prefer a dry track to take full advantage of its potent passing attack. Led by junior Spud Dick, a 29 game starter in his career, the Tiger passing game is formidable. Dick (photo left courtesy of DePauw University) hits on 67 percent of his passes, averages 300 yards per game, and has thrown 23 touchdown passes. Five of his 11 interceptions on the season came in his team's losses at nationally ranked Millsaps and Trinity.
His favorite targets are the speedy possession receiver Bryan Mulligan (48 receptions, 4 TDs) and deep threat Alex Koors (50 catches, 17-yard average, 9 TDs). The versatile Brayden Dahlstrom has 33 catches, and six different receivers have catches longer than 30 yards.
The Tigers' running game has been plagued by injuries. Starters Jon Ellis (430 yards, 5 TDs) and Derrick Karazsia (249 yards) have combined to miss five games with injuries. Ellis, though, is healthy again and will build on a solid freshman year.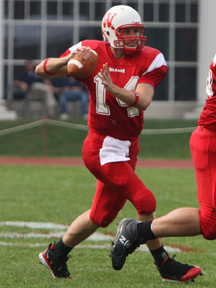 Wabash's offense counters with junior Matt Hudson (right) at quarterback. The second-year starter has completed 68 percent of his passes for 2,376 yards, and 25 touchdowns. Three of his six interceptions came in a hard-fought 13-10 win at Wittenberg, but otherwise he's been tremendously efficient.
It appeared sophomore receiver Kody LeMond was headed for the record books after hauling in 13 touchdown passes at mid-season, but double coverages and Wabash's emerging running game have slowed the passing attack. LeMond leads the team with 59 catches and averages 18.2 yards per reception.
The rest of Hudson's 161 completions have been spread out among a number of talented receivers. Sophomore Wes Chamblee (23-296), freshman Brady Young (15-235-2), and seniors Brock Graham (19-237-4) and Andrew Rode (17-196-2) have all had standout performances this year.
Wabash's offensive edge over DePauw is likely in the running game. Whereas DePauw has averaged just 2.9 yards per carry, Wabash backs are clicking off big chunks of turf with four backs averaging over 44 yards per game. Seniors Bobby Kimp (117-599-8) and Adam Pilli (48-309-4), junior Evan Sobecki (46-340-5), and sophomore Derrick Yoder (92-425-7) have all split time in the backfield for the Little Giants.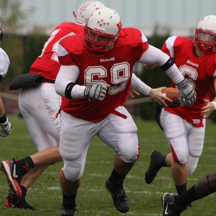 Punching holes in defensive lines for Wabash has been an experienced offensive line, led by seniors Jeremy Morris, Pat Long (left), and Tony Neymeier.
Wabash's offense is likely to continue to do what it has all season — mix up the pass and run based on the defensive personnel opponents have on the field. Hudson's comfort with Head Coach Erik Raeburn's offense has grown throughout the year, evidenced in the 168 points the Little Giants have scored in the last three weeks.
DePauw is very solid up front with sack-master Michael McNelis and proven linebackers Ryan Preuss (60 tackles) and Tarren Collins (59 tackles). Safety Marc Hoeppner is good against the run and the pass with 51 tackles and two interceptions. Wabash will likely challenge DePauw's secondary, which has yielded 19 passing touchdowns this year.
Meanwhile, to slow DePauw's aerial attack, Wabash will look to its defensive line to put pressure on Spud Dick.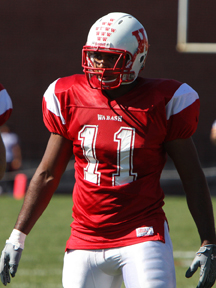 Leading the way are four players with loads of starting experience, including seniors Darryl Kennon (right, 29 sacks, all-time leader), Jared Lange (38 tackles, 6 sacks), and Josh Gangloff (29 tackles), and junior Matt Whyde (4 sacks).
Wabash is also likely to employ nickel packages on defense, which will involve bringing in an extra defensive back in Addrian Frederick (5 interceptions) to join corners Chris Schweigel and Dan Ryan Wood (2 INTs). Third-year starting safety Chad Peterman (10 career INTs) brings experience to the defensive backfield.
Senior linebackers David Mann (33 tackles, 2 INTs) and Rich Lehmann (33 tackles) join junior Bryan Watson (49 tackles, 2 INTs) and C.J. Gum (23 tackles) as the team's primary run stoppers.
Unlike in many recent years, both teams have very credible and reliable kicking games. DePauw's Jordan Havercamp booted the game-winning 47-yard field goal that defeated Wabash last year, and he's hit 8-of-11 field goals this year. Wabash counters with the tandem of Spencer Whitehead and Drew Oehler, who have combined to hit 6-of-9 field goals and 51-of-56 extra points.
But it's unlikely that with such high-powered offenses on the field that the two coaches, DePauw's Matt Walker and Wabash's Erik Raeburn, will be settling for field goals… unless they come with only seconds remaining.
The predictions for the 2008 Monon Bell Classic are in — cold and wet, big crowds, and a hard-fought, intense rivalry game sure to please the 12,000 fans who pack into Little Giant Stadium and thousands of others who will watch the national telecast.