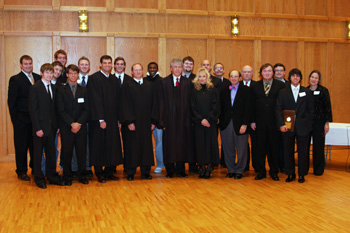 Junior Alex Ingram won top advocate honors Tuesday night during the 2008 Moot Court competition in Salter Hall. Ingram bested three other Wabash men for the title in the 15th annual competition.
Ingram was lauded by the judges for his style, presentation, and substance while making the petitioners argument with partner Grant Gussman '09. The respondents were Trevor Counceller '12 and Steve Maynard '11.
The case is always based on an actual litigation but re-written for the purpose of the competition. The case usually comes right from the headlines. The 2008 case dealt with the constitutionality of an obscenity statue in the fictional state of Olympia.
"You never know how something like this will turn out," Ingram, a Pendleton, Ind., native said. " I just left it all out there and I knew I couldn't do any better. There is always something you think you left out but at the end I was proud of what I did and any result would have been ok. I feel great."
Ingram emerged from a group of 26 students who started the competition. The students prepare, are coached by Wabash graduate lawyers, and must survive preliminary rounds before reaching the finals.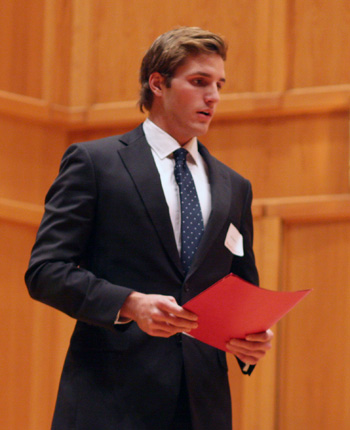 Ingram acknowledged it was a lot of work. "You know for me it was just hours a day for quite awhile. You have to get ready, for some people it doesn't take that long but I definitely put in a good 3-4 hours each day of litigating.
"I think what matters most is if you can communicate the foundation of your argument in the simplest terms possible and just have a conversation with the judges and not over power them."
The judges were generous in their praise of all four men. The panel was chaired by Honorable Elaine B. Brown, a new member of the Indiana Court of Appeals. She was joined by the Dean of Indiana University Law School at Indianapolis Gary Roberts. Faculty member Dr. Todd McDorman served on the panel along with Honorable Jay L. Toney '83.
"The kids were just as I expected," Toney said afterwards. They knew more about the subject than the judges did and did a good job of presenting that to us. And I think Judge Roberts made the comment that they were very much like law school students or better prepared and I would agree with that. I participated in Moot Court at law school and these kids were just terrific. They really knew the subject matter and how to stand there and make their arguments."
Ingram and the other finalist are awarded cash prizes. The Math and Political Science major plans to attend law school after graduation.
The competition is sponsored by the Indianapolis Association of Wabash Men and the Wabash College Rhetoric Department. A number of College professors join Wabash graduates in judging the preliminary rounds.
The early round volunteers include: Steve Badger '87, Prof. Richard Bowen, Seamus Boyce '03, Chris Braun '81, Prof. Melissa Butler, Steve Creason '79, Dan Dovenbarger '79, Tom Fisher '91, Matt Griffith '89, Tom Hastings '80, Prof. Glen Helman, Jane Ann Himsel, Prof. Scott Himsel '85, Prof. Ethan Hollander, Brad Johnson '71, Prof. Jeff Motter, Prof. Eric Olofson, Prof. Joe O'Rourke, Adam packer '00, Prof. Jamie Phillips, Prof. Vic Powell, Prof. David Timmerman, Ted Todd '61, Jonathan Warner '03, Monty Woolsey '81.