Chicago Career Event a Big Success
by Tom Runge • October 26, 2008

Share: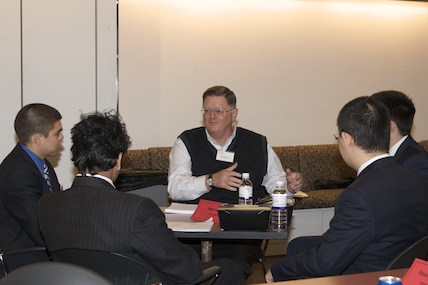 Several Chicago area alumni took time out of their Sunday afternoons to talk with well over 30 Wabash students about career opportunities. The location was the downtown Chicago world headquarters of the advertising giant Leo Burnett.
Schroeder Career Center director Scott Crawford welcomed the group, thanked the alumni from Leo Burnett, and asked the attending alumni to introduce themselves. Every imaginable career was mentioned, from personal investments to advertising and marketing to the practice of law. Alumni covered four decades from the early 1970s to Ben Esbaum who graduated less than 18 months ago. 
There were some interesting alumni experiences to be shared: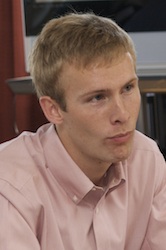 - Khurram Tahir '01 flew in from Bejing China less than 36 hours before the event.
- Joe Martin '06 will start his MBA soon and it's funded by his employer.
- Jake Koeneman '06 spent a year working in Australia.
- Ben Esbaum '07 was caught up in the closing of Lehman Bros. a couple of weeks ago but thankfully is now with Barclays!
Many thanks to Skip Long '71, the senior alumnus at Leo Burnett, and to all alumni for their help with career advice to our young men.
Photos: 
Top: Skip Long '71 shares his experiences
Right:  Ben Esbaum '07 talks about his career
For more photos, click here.