Lange Earns NCAC Defensive Weekly Honor
by Brent Harris • October 22, 2008

Share: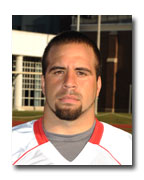 Wabash senior defensive end Jared Lange has been named the North Coast Athletic Conference Defensive Player of the Week.
The Terre Haute North High School graduate received the weekly award after forcing a fumble in the final minutes of the Little Giants' win at Wittenberg. Bryan Watson recovered the loose ball to set up a game-tying touchdown for Wabash.
Lange also made seven tackles, including 3-1/2 tackles for losses and two sacks. He became the third Wabash player to record more than 50 tackles for losses in a career (5-1/12 for 231 yards of losses). He is currently eighth on the career sacks list with 20-1/2.
Lange currently leads the NCAC in sacks and tackles for losses this season. He has a total of 10 tackles for losses of 47 yards and 4-1/2 sacks for 30 yards. Lange is third among Wabash players in total tackles with 28 and is tied for the lead in unassisted stops with Watson at 17.