RIchard Hatcher: Turning the Tide and Passing the Torch
by George Mavrelis '09 • October 7, 2008

Share: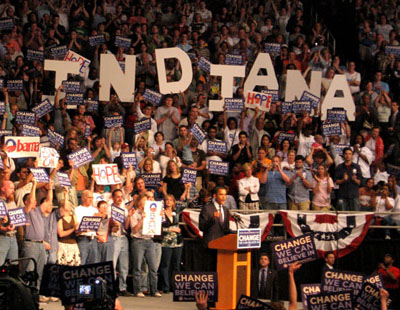 As primary day unfolded in Indiana on May 6th, 2008, the media was quick to report record turnout in all precincts, and voters energized like never before. The polls finally closed, and the results began to trickle in. The media newscasters and pundits began to report an extremely tight race between Sen. Clinton and Sen. Obama in the Democratic presidential primary.

By mid-evening, most of the counties had sent in their results, and the nation waited for the news media to project a winner. However, the media outlets were reluctant to project a winner as the night came to a close, calling it "Too Close to Call". This was due to the fact that almost all of Indiana's counties had their results in, except Lake County, the second most populous county in Indiana.

Many couldn't understand why Lake County had not reported any of its results even as May 6th turned to May 7th, and murmurs of corruption and foul play began to surface. Was Lake County withholding its results so that many in the nation would go to bed not knowing the results of the primary, therefore killing any potential momentum for the winner? "The Nation watched Tuesday night as Lake County election officials held the fate of the Democratic presidential primary in their hands—and held it, and held it, and held it," is how the Northwest Indiana Times reported it on May 7th, 2008. Hoosiers, and in particular, long time residents of Northwest Indiana, no doubt had their thoughts float back to 1967 and Richard G. Hatcher.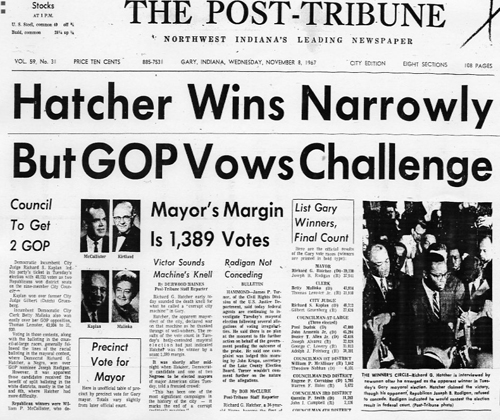 The history of racial, political and social equality in Indiana, particularly in northwest Indiana, has been a turbulent one, stained with many occurrences of injustice and hate. Indiana severely lagged behind other Northern states in its progress towards racial equality. A report given to former Indiana Gov. Matthew E. Welsh (in office 1961-1965) by the Civil Rights Commission states, "At the beginning of 1961 one cold hardly find a northern state in which the Negro citizen had as little protective legislation and state programs in his behalf as in Indiana." Historian Edward H. Ziegner in Donald Carmony's 1966 book Indiana: A Self-Appraisal described Indiana as, "an enclave of seedy bigotry and corruption."

Let us first recall that as recently as Aug. 7th, 1930, two African Americans, Abe Smith and Tom Shipp, were lynched after being severely beaten in Marion County, IN. As a mob of 10,000 Hoosiers stormed their jail cells the two African American teenagers, who were being held on charges for the assault of a 19-year-old white girl, had no chance. This is one of the last known incidents of a lynching north of the Mason-Dixon line. According to the records no one has ever been charged or prosecuted for their deaths.

Second, let us recall the strong presence of the Ku Klux Klan in Indiana. Hoosiers of the day, in the 1920's and 30's, witnessed and contributed to the rise to power of Ku Klux Klan Grand Master D.C. Stephenson in the Indiana power structure. Stephenson's popularity and influence began to rise as he built one of the strongest chapters of the KKK in the United States. According to historian M. William Lutholtz, author of Grand Dragon: D.C. Stephenson and the Ku Klux Klan in Indiana, the KKK in Indiana was, at its peak, nearly 300,000 members strong, constituting about 1/3 of all white males in Indiana at the time. With such widespread support, Stephenson attained unrivaled political influence and he did not hesitate to use it. Stephenson himself put it best when he infamously said, "I am the law in Indiana."

While in jail for his Nov. 14, 1925 conviction for second-degree murder, Stephenson would go on to name the names of those who had helped him rise to power. His confessions led to many notable indictments including Governor Ed Jackson, Marion County Republican chairman George V. Coffin, and attorney Robert I. Marsh, who were charged with conspiring to bribe former Governor Warren McCray. Indianapolis mayor John Duvall was convicted and sentenced to jail time as well.

Third, let us recall the popularity of George Wallace in Indiana. Gov. Wallace was an openly pro-segregationist presidential candidate who would frequently bolster his support by playing to the fears and racial prejudices of whites. Wallace was a symbol of bigotry in the United States during a time when the country was making great strides in the civil rights movement and racial equality. Wallace ran for President in 1964 as a Democrat, and Indiana was one of three states in the north where he entered the primary. In the 1964 Indiana Democratic primary Wallace won a surprising 1/3 of the votes cast, and then in 1968 running as an Independent, he was able to amass 243,108 votes or about 12% in the '68 Indiana general election, his second highest percentage above the Mason-Dixon line.

However, at this same time, Indiana also took a step towards equality and would make civil rights history when in 1967 Richard G. Hatcher attempted to become the first African American mayor of a major American city in Gary, Indiana. The historic 1967 election of Richard G. Hatcher as mayor of Gary became a turning point for the progress of African Americans not only in Indiana, but the entire nation. The election forced the nation and Indiana to confront the issue of race in politics, which was a remarkable achievement given the racist hurtles and barriers that faced Hatcher in his campaign for mayor.

In the late 1960's the United States was in a state of civil strife from disillusionment with the Vietnam War and rampant racism that eventually led to the assassination of civil rights leader Martin Luther King. But in 1967, Gary, Indiana became the stage for what would be one of the great moments for African Americans in politics. Gary in the late 60's was an industrial powerhouse touting some of the best steel mills in the nation. It was a city with a population of nearly 200,000 and interestingly half of the residents were white and half were black. Despite this even 50/50 split Gary's political leadership was overwhelmingly white and plagued by corruption charges. The county party had a reputation of having ties to organized crime and jail was not an uncommon place for political leaders to end their terms in office as did mayor George Chacharis, who in December 1962 was convicted of collecting kickbacks and failure to pay income taxes on $227,000. However, a young and determined Richard Hatcher stepped into Gary's racially corrupted political arena set to make a change, but it would not come easy.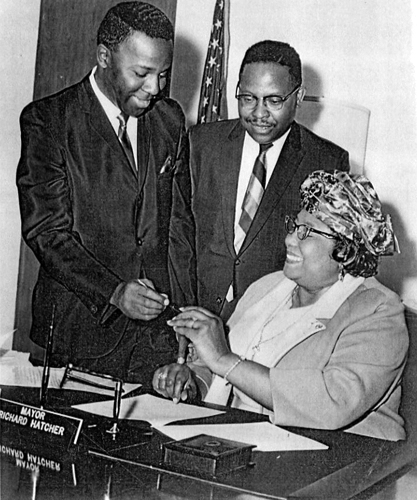 Richard G. Hatcher was born in nearby Michigan City, Indiana in 1933. He completed his Bachelor's Degree at Indiana University in 1956, and went on to receive his law degree from Valparaiso University in 1959. Soon after, Hatcher moved to Gary and began to practice law in East Chicago, Indiana. In 1961, he began serving as a deputy prosecutor for Lake County, Indiana, until he was elected to Gary's City Council in 1963. He was the first and only freshman councilman elected president of the City Council in Gary's history, where he helped pass civil rights ordinances.

In an interview with the North West Indiana Times Hatcher explained, "At that time, blacks couldn't go to restaurants in Gary, could not stay at the Gary Hotel. They could not go north of 11th Avenue." From there, he decided it was the right moment for him to make a historic and ambitious bid for the position of mayor. This was highly unexpected by the Democratic establishment of Gary, because Hatcher was politically unknown. He began his first term of public office only four years prior as a councilman. However, he was considered squeaky clean as an African American candidate. He was a 34-year-old bachelor, who was described in local papers as shrewd, persuasive, and having a smooth Ivy League manner. He did not smoke or drink and in the African American community he was regarded as the "Black White Knight." In the same Times interview Hatcher said, "People… had the feeling, even though this was something that had never happened before, they… could do anything if they work hard enough and are dedicated enough." When the Democratic mayoral primary began in early May 1967 the hopes of the underrepresented African American community of Gary rested in Hatcher's candidacy.

Hatcher faced incumbent Democrat Mayor A. Martin Katz and popular segregationist Bernard Konrady in the primary race. Unexpectedly Hatcher defeated both Katz and Konrady by 2,362 votes benefiting from a strong African American turnout and a split of the white vote between Katz and Konrady. This historic result sent shockwaves through the Democratic establishment in Gary and many party leaders were not prepared or willing to support Hatcher.

Instead the Democratic establishment abandoned Hatcher, led by John Krupa secretary of the Lake County Election Board and county Democratic Party chairman. Krupa was the most recent driver of the very powerful Democratic political machine that had kept Gary a Democratic stronghold for over 30 years. According to Hatcher, after his primary victory Krupa approached him and said, "congratulations and… the party will select the chief of police, the city attorney and the city controller." Hatcher did not yield to Krupa's demands, and decided to run his campaign his way. Hatcher maintained throughout the campaign that Krupa deserted him because he was "Negro", while Krupa maintained he could not support Hatcher because the candidate would not denounce Black Power advocates and claimed he was closely associated with subversives and radicals; even calling Hatcher a Communist sympathizer for opposing the war in Vietnam. However, it was clear this election would not be about the issues, but rather about race. "Gary is normally a Democratic stronghold but the political contest there appears to have largely polarized into a Negro-White issue," as put by the Gary Post Tribune on Nov. 6, 1967.

The showdown was now set with Richard Hatcher the Democratic African American candidate versus Republican candidate Joseph Radigan, who was a white furniture storeowner in Gary. Each candidate relied heavily on their respective white and black communities that equated to a 50/50 split of the population of Gary. Krupa, Democratic Party Chairman, had begun openly supporting the Republican candidate for mayor whose party hadn't held the office in over 30 years. It was a clear and direct insult to Hatcher and what he stood for, and was a preview of the level of racial acrimony he needed to overcome. Through the media Krupa commonly demeaned African Americans adding to the racial divide in the city. In newspapers, Krupa continued to refer to Hatcher as not the "right kind of Negro", and defended himself when he claimed he would "groom" someone who was the "right kind of Negro".

With the election approaching, the battle for mayor became uglier and nastier, with both sides accusing the other of using tactics of intimidation and fear. Krupa continued to play to the fears of white voters. Krupa was recorded in the Oct. 27, 1967 edition of the Gary Post Tribune as saying; "It would be of national concern in a time of crisis if Hatcher were mayor of a major industrial complex such as Gary." And on the other side, Republican candidate Joe Radigan claimed that the few African Americans who were supporting him for mayor were hassled and harassed by African American supporters of Hatcher for not backing the African American candidate.

As the war of words on both sides became more and more racially charged, many feared the city would not be able to survive the election. The fear of racially motivated violence and chaos was all too real for Indiana Gov. Roger Branigin, who ordered 4,000 National Guard troops to Lake County to keep the peace. An opinion editor in the Gary Post Tribune summed up the election by saying, "The election campaign has been marked by bitterness, hatred, corruption, racism of all kinds, intemperance, unspecified charges, unfounded allegations and insinuations – all of which have tended to make a mockery of the democratic process." Hatcher even sent a telegram to Illinois Gov. Otto Kerner, Chairman of the President's Commission on Civil Disorders, asking that the commission come to Gary, "to see racial strife being manufactured." The city of Gary seemed to be in imminent danger.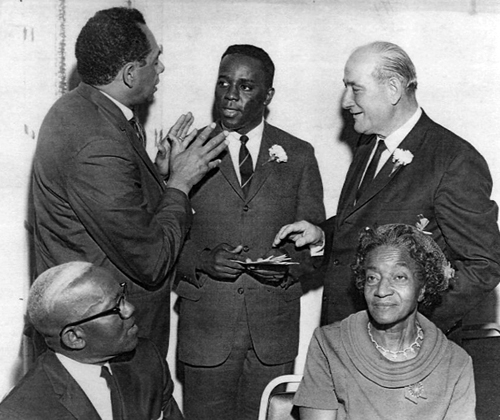 Only four days before the election, another twist occurred when on Nov. 3, 1967 the U.S. Justice Department filed suit against five Lake County election officials, including John Krupa. It appears a fair and just election was not in store for Gary, when the public learned that the election officials were charged with padding voter rolls in white precincts and illegally purging voters in black precincts. The suit caught the eye of the nation, as the drama of the black candidate versus the white candidate unfolded. Witness Mrs. Marion Tokarski, a Democratic precinct committeewoman, told the court she had 51 fraudulent names from a 1st District deputy registrar by the name of Tec Rocoff, she claimed she was told by Rocoff that "ironworkers and prostitutes" would be doing the voting for the fake names. Krupa sent around 5,300 letters to Gary citizens in Negro neighborhoods, informing them that they had to re-affirm their registration status or they would not be allowed to vote. FBI agents were brought in to canvass 18 predominately white precincts and were unable to locate 394 persons who were listed on the voter roll but did not exist.

After further investigation the total ran up to nearly 1100 fraudulent names and addresses in white neighborhoods, but not one fraudulent name was found in any of the black precincts. The Justice Department contended such a special effort to purge voters in black neighborhoods from the rolls while not doing it in white neighborhoods was a violation of the Federal Voting Rights acts of 1964 and 1965 against racial discrimination in suffrage. This was the first time these laws had been invoked in the North. It became a landmark case in the Civil Rights movement but, the question remained, would these last minute efforts be enough to insure a free election?

Tuesday Nov. 7th, 1967; Election Day came and tensions were high. Early in the day it was clear that the voters of Gary were coming out in record numbers. Within the first three hours almost 32,000 ballots had been cast, which was about half of the total ballots cast in the 1963 election for mayor. FBI agents, local police, and 4,000 National Guard troops were nearby and prepared to protect the rights of Gary citizens, showing their presence at each polling station. Thankfully, as the day progressed, order and justice seemed to prevail over chaos and discrimination. Mayor Katz called the election, "the quietest in the history of Gary." When the polls closed a record total of 77, 271 ballots had been cast. This was the largest voter turnout ever for Gary, even larger than the turnout for the 1964 Presidential General Election, and all were eager to know the outcome. Shortly after midnight it was clear Hatcher had made history, winning the election for mayor with a margin of 1,389 votes.

With his victory Hatcher, along with Carl Stokes of Cleveland, became the first African-American mayor of a major city in the United States. "This has been one of the most significant campaigns in the history of the city – it marks the end of a corrupt political machine," Hatcher said as he addressed his supporters that night as the victor, despite the absence of opponent Radigan's concession speech. This was a triumph for Gary as the nation was watching its every step. The next day as the news spread across the country of what had taken place in Gary, Indiana, congratulations and support for Hatcher and the city of Gary started to pour in from the nations top leaders. Vice President Hubert H. Humphrey congratulated Hatcher calling him the, "mayor for all Gary." Humphrey also believed that the election was, "a message which will be heard world wide." Indiana Rep. Ray J. Madden told the press he had just received notice that Gary would be added to President Lyndon B. Johnson's list of "model cities". On January 1st, 1968 Hatcher was inaugurated as Mayor of Gary and in his address proclaimed, "Today we are witnessing a rebirth of Gary's determination to take its rightful place among the great cities of our nation." The election in Gary, Indiana in 1967 became a symbol of the type of progress this State had made towards racial equality in the political arena.

The election also became a turning point in the previously marred political history of African Americans in Indiana politics, and set our state on the path towards racial equality. As we return to our own day it is interesting to view Barack Obama's May 6th Indiana primary contest with Hillary Clinton with this history in mind. Finally, after painstakingly awaiting the results from Lake County, Hillary Clinton, the heavy favorite, was declared winner with a total count of 646,236 votes to Obama's 632,034. Obama surprised many by losing by only 22,000 votes, it was nevertheless enough to slow the momentum of a resurging Hillary Clinton and help win him the nomination of the Democratic party. He became the first African American to be the nominee of a major political party in the United States.

In a recent symposium at the Indiana University Northwest campus celebrating the 40th anniversary of
Hatcher's and Carl Stokes's elections as mayors, Hatcher commented on the success of Obama, "It may not seem significant now, but years later you will look back on this and say, 'Oh yeah, that's what was going on. A sea of change was taking place. I truly believe that America is ready to put a lot of the problems we've had between the races behind it and to move forward as an equal, fair, and just nation." Many would argue that should Obama go on to be elected President of the United States it would complete a change of direction for the nation that began in some ways in Gary, Indiana in 1967.

Photos (from top of page): Barack Obama at a Gary, IN rally(discuss.eplurbismedia.net photo); Headline of Hatcher victory from the November 8, 1976 Post Tribune; Hatcher with city officials (Indiana Historical Society photo); Hatcher with union representatives and his parents (Indiana Historical Society photo).

George Mavrelis is a senior at Wabash College.