Woods '93 Helps Companies Find Right Employee
by John McGaughey '11 • September 30, 2008

Share:
Steven Woods is a headhunter. But not the type who would be shrinking your head anytime soon.
Woods '93, President and founder of Fountainhead Inc., a recruiting company in Indianapolis, is a third party recruiter, or "headhunter," that recruits new employees for dozens of Fortune 1000 companies across the nation.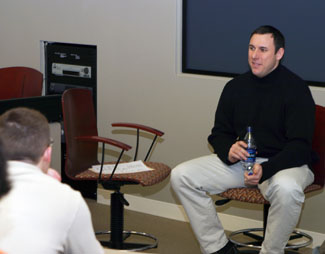 "Nobody sets out to be a headhunter," Woods said.
Woods towered above his fellow alumni at the Fifth Annual Big Bash Reunion. Woods hosted a colloquium, titled "The Subtle Art of Dating or Understanding the Interview Process from Either Side of the Desk."
"This is just how I'm dressed at the office," he jokes. "I don't shave, I don't wear a suit. Maybe just shorts and a shirt."
Woods, an English major, was also a Phi Delta Theta and Chair of the Board of Publications his senior year. His decision to enroll at Wabash was mostly influenced by his brother Andrew Woods '86 and his high school English teacher, both College alumni.
Inspired by his brother, a Franklin, IN., attorney, Woods was headed for law school after Wabash. However, a last-minute decision landed him working with classmate Mike Crnkovich '93 at Hoop it Up in Texas. He was an account executive, organizing three-on-three basketball tournaments, until he felt the call to recruit and returned to Indiana to work as a headhunter.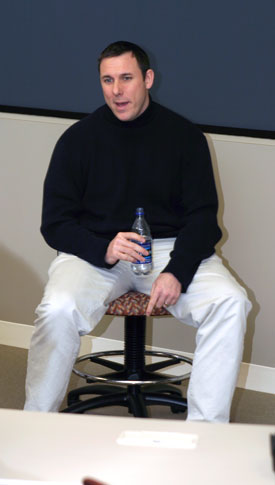 Then, in July 2002, Woods created Fountainhead Search, Inc. Located in a small office in Indianapolis, Fountainhead Search fills medical sales positions and represents a small number of companies on a national scale. Although Woods does little recruiting in Indiana, he does represent companies in large cities such as Chicago and Atlanta.
Woods returned for his 15-year reunion at the Fifth Annual Big Bash in 2008, hosting a colloquium on interviewing skills. Using the metaphor of dating to illustrate his philosophy on interviewing, Woods explained that, like a first date, an interviewer and interviewee must establish chemistry and get to know each other gradually, to see if there is any possibility of a "second date," or future career.
"Ask questions," Woods said. "Interviewees also must be prepared to talk about themselves in great detail."
A lack of preparation can result in a poor date, or interview, especially when it comes to answering the question, "Tell me about yourself."
"Everyone, from college students to company VIP's, dreads that question," he said.

Woods suggested that interviewees form 120 second "commercials" of themselves for interviewers. Woods noted that six behaviors (communication, planning/organizational skills, accountability, empathy, competitiveness, and adaptability/coachibility) can be used to describe any other professional behaviors. The "commercials" can find their foundation in these behaviors.
A good interview must be conducted from both sides of the table, and both parties should actively listen. "We were given two ears and one mouth for a reason: we should listen twice as much as we talk." At last when the "date" is over, both parties must draw it to a close. The interviewee must move in for the "kiss" and end the interview with a trial close, such as, "I think I am fit for this job; do you think I am fit for this job?"
Apart from his recruiting business, Woods also officiates football for the National Collegiate Athletics Association in the Mid American Conference (MAC) region, which includes schools such as Ball State University in Muncie. A four-year Little Giant letter earner and co-captain of the football team, Woods blew out his knee senior year and spent much time on the injured roster, but returned to play in the Monon Bell Classic against DePauw.

Woods is an umpire, the official that stands behind the linebackers during play. "I played football all throughout college, so this is a way to keep that excitement going. I still feel that same rush when I go out on the field (to officiate) that I used to feel back at Wabash."
Wabash has a tradition of alumni becoming sports officials. This includes David Parry '57, who was an official for the National Football League and then became the first national coordinator for officiating NCAA football.
"Of course, my wife has been very patient with me," Woods said. "In the fall she becomes a football widow."
Woods is also pursuing a Master of the Arts Degree in English at Butler University.
"Wabash taught me how to think, and I wanted to keep that education going," Woods said. "So I am taking one class every spring. It won't affect me professionally in any way; I did it for me."
Woods, although he only graduated Wabash 15 years ago, finds himself today a modest but successful entrepreneur, while still finding time to follow several other passions.
"I don't claim to be a guru for interviews. I don't claim to have all the answers. But I can tell you a lot about asking questions, which I seem to be good at."