Raters '85 Urges Community to Embrace Gentleman's Rule
by Howard W. Hewitt • September 11, 2008

Share:
Dean of Students Mike Raters '85 reminded students, faculty, and staff the Gentleman's Rule is a collective effort. Raters was the second of three speakers to address the College's only rule in Thursday's Chapel Talk.
"The responsibility for raising our young men as gentlemen and responsible citizens does not rest with our office alone," the new Dean of Students said, "the faculty, staff, and administration need to lend a hand."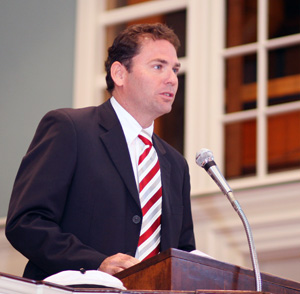 Raters used his opening remarks to salute Athletic Director and former Dean of Students Tom Bambrey. He credited Bambrey for some of the standards used by the Dean's office. When Raters asked the students to thank Bambrey for his years of service, they responded with a prolonged standing ovation.
Raters then was back to his "acceptance speech," as the new dean. He made references to the major parties' campaign themes of "America First" and "Yes We Can."
"Balance is a major theme of this talk, and a major theme for this fall," he said. That balance is found when all of the Wabash community lives the Gentleman's Rule. It lives when students enforce the rule instead of the dean or associate dean.
"There are two fundamentals," Raters explained. "The first is you have to have a fundamental understanding of what is a gentleman and a responsible citizen. And second you have to hold each other accountable."
He relayed Patrick Smith's comments to the Board of Trustees in May. Smith '08 told the board his one regret upon graduation was he wished students took the Gentleman's Rule more seriously. Raters then read from a Bachelor editorial, penned by Editor Smith, on the Gentleman's Rule.
He had the students attention as he wrapped up and threw in a huge applause line that drove the point home on gentlemanly behavior.
Raters talked about the annual Bell Game and in a round-a-bout way some of the inappropriate t-shirts students occasionally wear that time of year. "Why do we buy, sell, and wear yellow when it should be all about the red and white," he asked rhetorically. "One answer might be to balance the spirit of that event."
As the laughter died down, he issued a challenge using the words of Coaches Mac Petty and Rob Johnson. He urged the students, in the words of Petty, to "get after it" this year and make the Gentleman's Rule stronger than ever. Raters said Johnson would tell them, "I am a Wabash man and I know I can."
Listen to Raters' entire Chapel Talk by clicking here to go to iTunesU.
Associate Dean of Students and History Professor Rick Warner will wrap up the three-part discussion of the rule next week.