Medsker '03 Working for Top D.C. Law Firm
by Gary James '10 • July 23, 2008

Share:
If Scott Medsker '03 owned an airline, he would ban layovers. He doesn't like to wait. At age 27, the Sullivan, Indiana, native has become an Associate at one of most prestigious law firms in the world, Jones Day. He steered a straight path to his current position, taking no time off after Wabash. Two weeks after graduation, he moved to Washington, D.C. , where he began law school at Catholic University.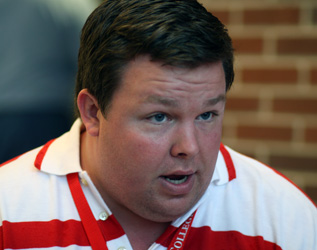 Four years later, he would land a job at a law firm most lawyers would only dream of achieving. What he did know, however, was he wanted to excel.
"You don't do anything because you want to be mediocre at it," Medsker said. "I always say people play baseball because they want to be in the pros. I went to law school, and I wanted to be able to [practice] in the major leagues - the pro's league of law."
Medsker's current employer fits squarely into the category of "pros league." Jones Day is one of the largest firms in the world, specializing in business, government regulation, litigation and tax law. With more than 2,300 lawyers in 30 offices worldwide, the high-powered firm represents more than half of the Fortune 500 companies and can also boast about its generous pro bono work.
Medsker has worked as a labor and employment attorney since September 2007. He helps defend employers from claims brought by employees. Discrimination claims are the most common. He also assists employers in negotiations with unions, interpreting and applying collective bargaining agreements, and sorting out wage hour disputes.
One unique aspect of Medsker's duties is his pro bono cases. Jones Day represents criminal defendants who cannot afford their own counsels. Medsker has the responsibility of learning all the small details of the cases and the claims of the defendants. He does the bulk of the research and tries to determine what legal course to pursue. Then, he joins a team of four attorneys to argue the case.
Other members of the team often have five or six cases going on at the same time, so Medsker supports them as the point person who has all the information organized for the team.
But Medsker said he did not want to be just a basic associate. He wanted to be a good associate.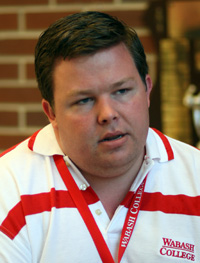 "What a good associate does is he does all that and then he brings his own," Medsker said. "The basic associate will wait to be called on. And somebody will say 'what happened on November 10?', and you have to know that. But then when it's done maybe you say 'can we take it this way? 'Can we look at this?,' 'Can we try this?' You bring your own value. You have to be confident, and you have to have a voice. You have the mental acuity to put that all together.
Medsker credits Wabash for building his confidence and his voice. He arrived in Crawfordsville in fall 1999 from a farming community of 3000 people, south of Terre Haute. He was a quiet person who had come from a school where his father was the assistant principal. He said he would characterize that time as "still hiding behind his mother's ruffles." But after coming to Wabash, he found his niche. He double majored in political science and rhetoric. He joined the Glee Club and Rugby Club. And he eventually became President of the Sphinx Club, the Inter-Fraternity Council, and Kappa Sigma Fraternity.
"If you had told me when I was a senior in high school that when I graduated I would know everybody on campus and really come out of my shell, I would not have believed you," Medsker said. "I think it was a small enough environment that I could grow to the maximum potential. If I had gone to a larger school, I think it would have been too big for me to interact."
Medsker also credits his Wabash education and the Wabash alumni network for his success in law school and his position at Jones Day.
"I was challenged academically [at Wabash]," Medsker said. "I had to learn real fast here. It got me ready for law school. You have to be able to challenge and give and take. And you can do that here. And that's what law school is all about. Even now as a young associate, when I'm working for someone who has been at the firm [longer] than I have, they don't have time to get in the knitty gritty of all the cases. But I do. It's my job. So you have to be able to tell them with respect 'No, you're wrong.' That starts in the classrooms here."
He also wasted no time in getting to know the DC alumni base, He knew no one in Washington when he arrived. But once he began attending monthly luncheons of the DC Association of Wabash Men, he "instantly had thirty friends." Medsker credits one friend in particular, Jones Day Partner Greg Castanias '87.
"I asked [Greg], 'what do I have to do to get where you are?,' Medsker said. "He read some of my writing and decided he would be willing to help me. He didn't do it for me, but he was always there for advice. He was a really, really fantastic mentor. You can do so much good as an alumni, if you are willing to open yourself up a little bit and help people. Without hyperbole and with the exception of my parents, everything I have as far as a job and friends and the person I am is in some way related to Wabash."