Gearheart '98 from Psychology to COO
by Kim Johnson • July 15, 2008

Share:
Whether painting houses in the summer or building a real estate business while in graduate school, Kevin Gearheart '98 finds himself drawn to business management. He still has a vested interest in multiple real estate companies, but for the past two years, Gearheart has been focused on healthcare.
After graduating from Wabash College with a degree in psychology, Gearheart and several classmates headed west to Colorado to participate in a management development program founded by Bob Knowling '77. He spent a few years there before returning to Indiana to start a real estate company. He completed his MBA from Indiana University in 2006 while continuing his work in real estate.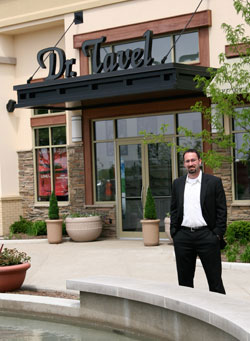 His venture in healthcare started as a response to a vague job posting – a background in real estate, negotiation, and e-commerce. Dr. Larry Tavel was looking for someone to assist with the management side of his business ventures.
Tavel quickly recognized Gearheart's talent and business savvy and got him involved with projects related to technology and e-commerce in the family eye care business. Within five months, Gearheart had been promoted to COO of Dr. Tavel Family Eye Care.
While there is no typical day for Gearheart, he spends much of his time visiting the 19 Dr. Tavel locations across the state and checking in with the lab. "I try to stay in constant communication with everyone calling on a couple stores a day," he said.
The company is currently implementing new computer software. "In this business we have no room for error. The new software will reduce paper waste as well as increase efficiency from point-of-sale, to lens prescriptions, to sending information to the lab and electronic billing. This is a major project that is shifting the way we do business, in every aspect of our business."
Gearheart recalled a postcard he received from admissions at Wabash that read: It won't be easy, but it will be worth it. He has reminded himself of that card frequently as he has taken the company through the vital step in upgrading their technology. "In fact, just the other day I told Dr. Tavel about that postcard.
"I am constantly looking for ways we can change and become even more efficient," Gearheart said. Even though Tavel is the largest eye care provider in the state, he still considers it to be a small business with roughly 200 employees and he looks to those employees for input on making the company better.
"I don't like to hear 'that's how we have always done it.' I want us to think critically about what we can do better."
While some people love to win, others hate to lose.
"I hate to lose," Gearheart said. The star basketball player in high school became a role player for the Little Giants. "Not everyone can be the guy shooting the ball all the time. We can't win if everyone thinks only about themselves. I would rather be a role player on a successful team than a star player on a losing team.
"I don't care if I am mopping the floor or putting in a new software system, I just want to win. If there's a job to do, we do it."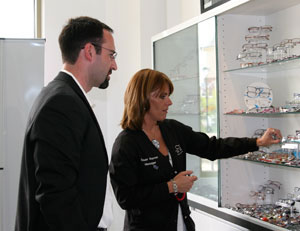 One of his top priorities has been getting the right people on the team. "I am a firm believer in the concept of hiring slowly. I want to make sure we have good people with the right attitude and work ethic. One thing I learned at Wabash was that to be successful you have to have a great team where everyone is working toward the same goal with a clear understanding of their role and the expectations of them."
As Gearheart looks at the company's future, he expects to continue to build on the strong Dr. Tavel name and also hopes to increase the number of patients they see for complete eye health. "People think about going to the eye doctor when they need glasses or contact lenses but forget about general eye care. We want to educate them about the importance of regular eye check-ups and encourage them to continue eye health maintenance.
"We have new scanning and imaging technologies for glaucoma that can help us keep better track of a person's eye health over time. Our online business is growing as it becomes easier and easier for people to order contact lenses through us online."
Wabash didn't shape Gearheart's career expectations, "but Wabash shaped me as a person," he said.
He was first introduced to Wabash College by his brother who attended Wabash for one year before deciding it was not the right fit for him. But when he was recruited to play basketball he decided to give the College a look. He realized almost immediately Wabash was the place for him. He was impressed with the academic focus of the College and saw the small-school brotherhood atmosphere as a great opportunity to make a lot of good friends.
"It's not for everybody, but it's worth the risk for anyone who thinks it might be a good fit. And if it is, he will get more out of the experience than he can ever imagine."
Even though he is not pursuing a career in psychology, he utilizes the many skills he gained at Wabash College in his current field. "Wabash constantly challenged me. It instilled in me the ability to learn and adapt to challenges and to be proactive in problem solving."
A decade later Wabash is still challenging Gearheart. "I see so many of my classmates who are incredibly successful. We have such a sense of camaraderie. It's motivating for me to see others be successful. It challenges me to want to continue getting better."