Forbes Report Ranks Wabash in Top 10
by Howard Hewitt • May 6, 2008

Share: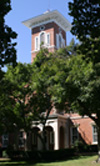 Wabash College has been recognized as one of the ten best liberal arts colleges in the nation by the Center for College Affordability & Productivity (CCAP). The report was released in the most recent issue of Forbes Magazine.
CCAP, a two year-old research organization, says it ranks colleges based on results. The CCAP contrasts its ratings with the complex methodology used by U.S. News and World Report in its annual College Guide. Richard Vedder, a scholar who has studied higher education financing, wrote the piece for Forbes. Read the full Forbes story by clicking here.
"Our measures begin with student evaluations posted on Ratemyprofessors.com, a nine-year-old site with 6.8 million student-generated evaluations," says Vedder. "We look at college graduation rates (as does U.S. News). We also calculate the percent of students winning awards like Rhodes Scholarships and undergraduate Fulbright travel grants. For vocational success we turn to Who's Who in America. Though imperfect, it is the only comprehensive listing of professional achievement that includes undergraduate affiliations.
"The biggest surprises come in our list of liberal arts colleges," writes Vedder. "Wabash doesn't make the top 50 on U.S. News' list but ranks tenth with CCAP because of the awards its students won and its showing in Who's Who.
Wabash was No. 10 on the CCAP list behind Williams College, Amherst, Wellesley, Swarthmore, Haverford, Washington and Lee, Barnard, and Whitman. Wabash's North Coast Athletic Conference partner schools were also ranked highly: Oberlin College is 19th, Kenyon is 22nd, Ohio Wesleyan is 59th, and Denison is 74th in the rankings. Other Indiana Colleges include DePauw at 31st, Earlham at 37th, Hanover 73rd. See the full liberal arts rankings here.