Big Bash One Month Away
• May 6, 2008

Share:
So far the Class of 1968 is way out in front headed down the stretch to the Fifth Annual Big Bash Reunion Weekend. Hoping to sweep the reunion attendance awards, the 40th reunion planners are pulling out all the stops.
The Class of '68's organizers have developed phone trees, through which men are contacting their fraternity brothers, teammates, and fellow majors. The results could blow the lid off the previous records for class attendance at the Big Bash.
The Class of '68's enthusiasm is driving other classes to work harder to drum up excitement for the Bash, which takes place June 6-8. Last year approximately 350 alumni returned for their class reunions.
Click here to check out the Big Bash Reunion Weekend website and sign up today. We must have your RSVP no later than May 24.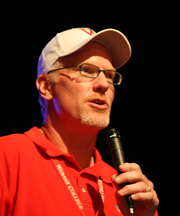 About a dozen members of reunion classes will serve as Colloquium discussion leaders. These 45-minute "classes" return alumni to Wabash classrooms for a little liberal arts teaching and learning. For example, this year long-time Wabash coach and athletic director Max Servies '58 will lecture on the history of Wabash athletics and former Indianapolis Mayor Steve Goldsmith '68 will talk about his 40 years in politics.
Each year one of the more popular Colloquium sessions is called Reminiscences, which features a handful of emeritus faculty members who share their stories — and yours!
Speaking of stories, this year Wabash will be capturing your best memories of your time at Wabash. In an effort we're calling "Scarlet Yarns," we're hoping to videotape small groups of alumni as they recall, reflect, and remember the highlights of their Wabash experience. We'll then compile what we hear and release a commemorative DVD of Wabash stories. Just imagine how much fun it will be to compare Chapel Sing of 1958 to Chapel Sing of 1998!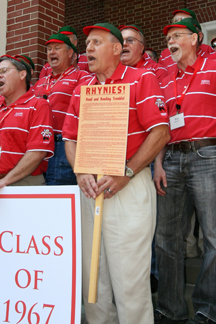 And on the topic of Chapel Sing, one of the most moving aspects of Big Bash Weekend takes place Saturday morning when reunion classes gather together on the Chapel steps to relive the Chapel Sing experience.
Each class takes a turn singing the song (extra points for knowing both verses) then the entire alumni body finishes things off with a loud and proud version of the school song. That's an experience you won't want to miss — and you'll never, ever forget.
You don't have to be a member of a reunion class to attend Big Bash. Many of us were close friends with guys in classes on either side of ours. We'd be pleased to match you with any class you wish.
Sign up today — Big Bash Reunion Weekend is less than a month away!
In the photos: At the top, Pete Metzelaars '82 reflects on 25 years in pro football at the 2007 Big Bash. At the bottom are members of the Class of 1967 at the Alumni Chapel Sing competition.