St. Joe Valley Welcomes Back Pat and Chris White
by Staff Member • April 30, 2008

Share: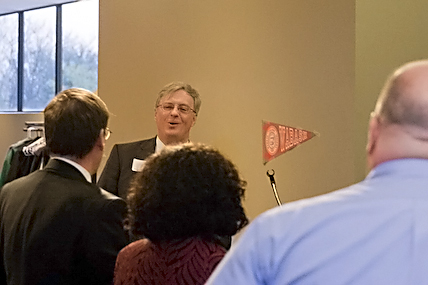 The weather was beautiful – cool but bright and not a cloud in the sky. Covalski Stadium, home of the minor league baseball team the South Bend Silverhawks, served as a perfect location as the St. Joseph Valley Association of Wabash Men welcomed Chris and Pat White back to the Michiana area.
President White spoke to the largest crowd we could remember at the reception and dinner in South Bend, Indiana on Tuesday evening, April 29, 2008. Pat told stories about several young men at Wabash, including a tidbit on each student whose parents attended the dinner. Pat then covered the basic tenets of the strategic plan – all designed to continue to recruit the right young men to Wabash and then give them the best possible education in the optimum educational environment.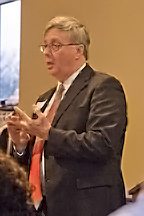 President White spent time answering a number of questions ranging from the possibility of Wabash going co-educational (NOT on the table!) to the educational tension that can be caused by a wide divergence of opinions among Wabash community members. Pat explained that the liberal arts environment is one that encourages the free discussion of all sorts of differing opinions and any attempt to alter that dynamic invariably would cause more harm than good. He did mention that part of the educational process, especially at an institution that relies on the Gentleman's Rule, is to continually stress the importance of respecting others even though one might disagree vehemently with their opinions. He lamented the lack of this in the present day and noted this is a widespread problem and not one specific to Wabash.
After answering question, Pat brought the crowd to its feet when he told everyone there was no better way to close out the evening than to sing "Old Wabash" and he even provided the introduction!
Many thanks go to Dick Barger '55 who set up the entire event, his grandson Cory, a professionally trained chef who is the Upper Deck catering coordinator (and who was responsible for a great dinner), and to regional association president Peter Horvath '92 who served as the evening's emcee.
For more photos, click here.
Photos:
Top - President Pat White leads the grouping in singing "Old Wabash"
Above:  Pat White answers a question