Race Machine Available at Lilly Library
by Patrick McAlister '10 • March 21, 2008

Share:
Race - one of the most divisive subtexts of the modern world. Race affects social interaction from simple normative stereotypes pushed on individual's everyday to deep seeded ethnic hatred leading to genocide. Genetically human beings are 99.97 percent similar, making racial tensions seem almost petty from a scientific perspective. There is a machine, however, that allows you to see yourself as a different race.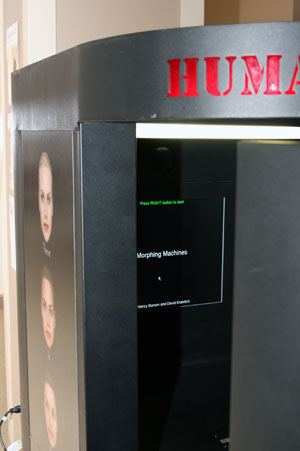 The Human Race Machine, a device that allows you to see yourself as a person of European, African, Hispanic, Asian, Middle Eastern or Indian descent, is on display now in the Lilly Library. It will be here through Sunday March 30. This digital art piece is sponsored by the Art Department and coordinated by Visiting Assistant Professor of Art Kristin Wilkins.
"This machine allows you to sit down in like a photo booth," Wilkins said. It's a software program that will take a picture of your face and from that you can see what you would look like. It morphs your features to look like these other features."
Dr. Wilkins will be giving a tech talk on Tuesday March 25 regarding the mechanics behind how the machine works.
"'Race' is more of a social construct," Dr. Wilkins said. "This is supposed to help us see that – I'm not a really different person if you change my outside. It's all about how you are raised and what was around you when you were growing up."
The digital art piece is the brainchild of Nancy Burson, famous for the software used to age individuals and transform features of multiple individuals.
"Nancy Burson has traditionally been making work where she morphs the features of multiple Individuals," Dr. Wilkins said. "In the 70s, she was interested in seeing what she would look like when she was older, and she started wondering if there was software so she could see what she'd look like when she was older.
"She basically had to go and find programmers to go and do this project," she continued. "Her claim to fame, in relation to that is the FBI purchased that software and that's how they age the faces of missing children. This is a software that is the descendant of that original missing children's software."
Included with the race software is the aging and multiple individual software. Students will be free to use all aspects of the machine. Dr. Wilkins had previous experience with both the aging and multiple individual functions of the machine, but she will be a novice with the race part along with the rest of the Wabash campus.
"We were particularly interested in the race aspect of the machine," Dr. Wilkins said. "this is the newest stage of it, which is why it interested me. But I thought there were lots of students on campus that would be interested in it."
Dr. Wilkins noted that in addition to more public art works like the now famous Critical Arch, the faculty wanted to incorporate more digital art. The Human Race Machine thus seemed to be the best of all worlds, as it not only fulfilled the aforementioned desires but is user friendly and definitional interactive.
We wanted to have a digital art piece on campus in conjunction with some studies we are doing with faculty in bringing digital art into the (Art) program," Wilkins said. "I thought of this piece because it sounded pretty fun – you can interact with it and it's pretty user friendly. Some digital pieces can be slightly opaque and hard to accept, but this one is very straight forward and they can jump right in and get some responses from it."
Wilkins hopes this project will help stir student discussion about not only race but public art as well, although she hopes the fate of the Critical Arch will not be the same for the Human Race Machine.
"I would love to hear students respond to this," Wilkins said. "I was very concerned by the arch vandalism that occurred, and if this is vandalized, the school has to pay $15,000. We don't want to do that."