Indiana Court of Appeals Hears Oral Arguments
by Kim Johnson • February 26, 2008

Share:
The Indiana Court of Appeals returned to Wabash College Tuesday for a hearing on a case stemming from a breach of patient confidentiality.
The three-judge panel consisted of the Hon. Patricia A. Riley, James S. Kirsch, and Melissa S. May. Riley began by explaining to the audience of students, faculty, staff, and community members that they would be hearing oral arguments just as if they were at the State House in Indianapolis. Each of the parties was allowed 30 minutes for their arguments.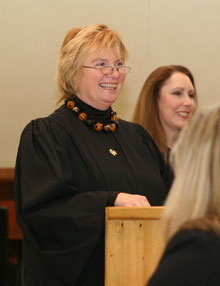 After oral arguments were complete, the judges and attorneys opened the floor for questions. Many of the questions centered around the amount of reading and writing required of the judges.
May said the reading is "extensive". "We write about 150 opinions a year and vote on another 300. Organization is key, as well as prioritizing the cases."
Each of the judges has three law clerks working for him or her. Kirsch explained as busy as he is, he does little writing but does more editing. "Every case is decided by a written opinion." He also explained that the Indiana Court of Appeals is one of a few courts in the country that still decides every case by written opinion.
"It brings discipline to the decision making process. It is possible to think well and not write well but it is impossible to write well and not think well."
Junior Jay Horrey was one of the approximately 50 people in attendance. He was there as part of his Law and Economics course. Although it was his second time to attend the Court of Appeals at Wabash, he said it was a great way to "learn about the court system in Indiana, not just about the Court of Appeals, especially for someone wanting to practice law in Indiana.
The Court of Appeals travels around the state to law schools, colleges, high schools, and county courthouses in an effort to help Hoosiers learn about the judicial branch. This was the 203rd case of the Court of Appeals "Appeals on Wheels" since the program began in early 2000.
Photo above: The Honorable Patricia A. Riley (foreground) answers questions after the oral arguments along with the Honorable Melissa S. May (background) and the Honorable James S. Kirsch (not pictured).