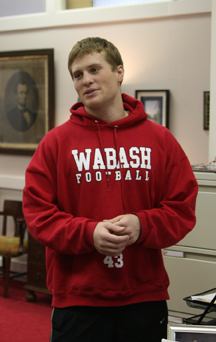 Spring break is a time of year many students love because school is out and many of them have planned vacations. For Brock Graham (right) and 20 other Wabash College athletes, though, spring break is going to be a time to help those less fortunate.
The athletes will be teaming up with OneWay Ministries and heading to Botswana to run sports camps and hopefully reach locals through God. They will leave Feb. 29 and return March 9.
"I just felt like I was called to do this," Southmont grad JT Moore said. "I have been consistently going to church for the past four or five years and felt it was time to get out and help somebody else."
The group of athletes, which consists of 20 football players and one soccer player, is headed up by sophomore Brock Graham, who was approached by former Wabash football defensive coordinator Neal Neathery with the idea of going overseas with OneWay.
"Coach Neathery came to me and suggested it and I thought I might be able to get a group of five or 10 guys that would be interested," Graham said. "When I saw 20 guys at the informational meeting and then the same 20 guys giving their commitment to the program, I was shocked."
This will be Graham's second trip overseas to help those who are less fortunate. Last summer Graham went to Kenya to do similar work and said he is looking forward to this trip just as much because of being able to help a different group of people.
New football coach Erik Raeburn (below left) was impressed by his players' commitment during a time when most kids are concerned about kicking back and having fun.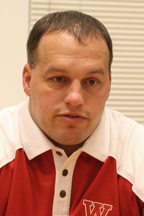 "This goes to show that we have some incredible young men on this football team and at this college," he said. "This is a very unselfish thing for a college student to do on their spring break, which is normally a time when students look to find a beach somewhere."
Raeburn has had the chance to talk with a few of the players going on the trip and said he can tell this is something that means a lot to each of them.
Neathery came up with the idea after talking with a former college teammate, Jim Johanik, who now works with OneWay and tries to get groups like the Wabash group to go to Botswana.
"I never expected to have 21 kids going with us, but it just goes to show the special groups of individuals that are at Wabash College," Johanik said. "We told them that if they committed to the trip and were able to raise the funds, we would back them 100 percent."
Johanik said he knows the trip is not cheap, and on short notice it is even harder to come up with the money, but again credited the efforts of the Wabash students and their determination to help the less fortunate.

The students from Wabash will be working with a team of African nationals stationed in Botswana affiliated with OneWay in an attempt to reach men and women of all ages from a dozen different Botswana villages in the savannah through Christ.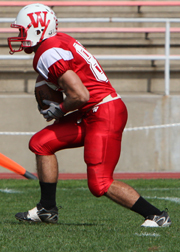 Moore (right) said he is just going to be happy being able to try to help the many people that are suffering in Botswana.
"I am really looking forward to helping somebody less fortunate than we are here in the United States," he said. "We were told to compare where we live to a Disneyland compared to the way people live in Botswana. We have so much over here and it will really be great to be able to go over there and help change their lives in whatever way we can, and to try to help them find God as well. I am hoping that when I return I will appreciate what I have a little more and use what I learned over there and give it to the people here in the States."
One of the problems in Botswana now is the AIDS epidemic, which has hit the country very hard and lowered life expectancy of its residents to 33 years — down from the 64-year life expectancy in 1990.
One in three Botswana people has HIV, which has given Botswana the second highest HIV infection rate in the world.
OneWay feels the Botswana youth are not all that different from other youth in the sense that they love sports. They are hoping by setting up the sports camps they can lead teens away from going down destructive paths.
"We are hoping that the kids going over will be able to reach the locals there through the sports camps and at the same time we want to express to them that God is with them, too," Johanik said.
"They will go there and administer the sports camps which should help them feel more comfortable because sports are their expertise," he said. "We are then hoping they will be able to talk with locals about the role God plays not only in the lives of the athletes but the role he can play in the lives of the Botswana people as well."
According to Moore, each of the athletes will also be responsible for memorizing a Bible story verbatim and they will take that story and share it with the many different villages through a translator.
Johanik said he also expects the students to have a completely different outlook on life after seeing the way people live in Botswana.
The total price for the trip totals right around $3,000, and Moore said he understands that is not a small amount of money.
The majority of the cost is for airfare to Botswana and then the leftover money will go toward lodging, food, fuel and transportation around Botswana.
Both Graham and Moore said the reaction from family, friends, professors and alumni has been great and everyone thinks what the group is doing is a great thing. Graham said it has been amazing to see the interest people around the campus have taken in what they are planning on doing.
Tax-deductible donations can be made to OneWay Ministries, P.O. Box 2211, Naperville, IL, 60567. Donations can be made to the group as a whole or to an individual player. For more information contact OneWay Ministries on the web or send email to Graham or Johanik.
"We all understand that not everyone can make donations, and if that is the case all we ask is that they keep us in their prayers while we over there," Moore said. "We are going over there to make a difference and the help and support we have received has been great and we can only hope it continues until we return."
This article first appeared in the Journal Review.