Arch Generated Desired Response
by Howard W. Hewitt • January 14, 2008

Share:
Critical Arch – is what Nick Roudebush '09 and Kevin Wasie '09 titled their public art piece for Joe Gower's Sculpture class. By duplicating the College arch and placing it in the middle of campus, they got response beyond all their hopes.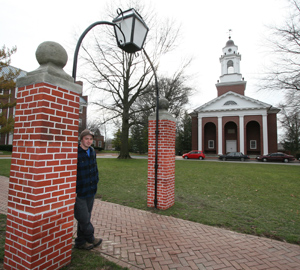 The arch mysteriously appeared Monday morning, Jan. 7, and immediately became a campus curiosity. The students loved the idea of posting a blog and encouraging comment which drew more than 50 responses. You can still comment by going to the blog here.
"It's been great," Roudebush said, who often stayed away but observed reactions. "Some students would walk underneath at the same time other students were walking around it."
The arch was meant to challenge tradition, concepts of art, and art's place on campus.
"It is an attempt to bring many issues surrounding the Wabash community to the surface," Wasie wrote from John Carroll University, where he is taking second semester classes. "I hope that Critical Arch stirs up thought about issues such as, what are the traditions at Wabash, whether or not the traditions we hold at Wabash are beneficial, the relationship that a community has to its traditions, the psychological effects that take place on members of a community that offer traditions for the basis of action.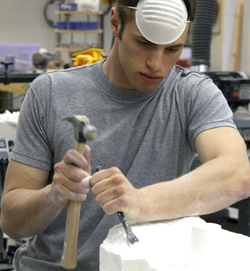 "I hope that the arch can be a pebble thrown into a pond that creates ripples of thought, discussion, and opinion."
Gower, who admitted no prior knowledge about the arch or the traditions and legend that surrounds it, is astounded by the students' success. "I have done this assignment at other institutions and have never had the success that this piece has," the Visiting Assistant Professor of Art said.
The reaction was both positive and negative, exactly what Roudebush was hoping. "We wanted both sides," he said. "Those comments are a part of our final work. There are people who are saying bad things or all negative comments and that's part of the art. They're part of the artwork when they say it's a piece of crap."
Roudebush, an art major, insists the piece is open to interpretation. "It questions tradition and it questions art," the Cicero, Indiana native said. "A lot of people here at Wabash have this set idea of things they want to see and this challenges that. What is art? Is it architecture? Is it a psych experiment? In my opinion it is both – art is very psychological."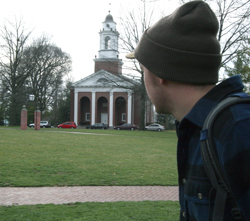 Wasie admitted amazement at the amount of response. "Criticism and compliment – all of the discussion is wonderful," he wrote. "It is nearly impossible to see the new arch and not interact with it in one way or another. Creating it on such a grand scale, putting it smack dab in the middle of people's paths, and giving the viewer the opportunity of how they want to interact with it (walk under or around) definitely puts a small seed of thought into the views mind."
The students researched the arch in the College archives, talked with a few veteran professors and had a panel react to their idea. The panel included Dean Tom Bambrey, Laura Connors and Tim Riley. It took about a month to build the arch, Roudebush said. They put it up on campus Sunday, Jan. 6, in a few hours. The arch will come down in another week or so.
The lack of public art on campus was also part of the motivation. "We just wanted to put art out there too," Roudebush admitted. "We wanted people to think about art. We need more public art and that was very intentional."
EDITOR'S NOTE: The desired response is a bit of an understatement actually. Besides the 50-some people who posted comments to the blog, the blog entry had more than 2,200 hits as of Monday morning since it's posting Jan. 9. That is a number substantially above usual news entries.
In photos: Roudebush with the arch that took more than a month to construct. At right, Wasie in an art class last spring. Bottom left, Roudebush would often keep his distance, as he was doing here, to observe reactions.