Creighton Leaving Wabash Football Post
by Jim Amidon • December 22, 2007

Share:
Chris Creighton, head football coach at Wabash College since 2001, has accepted the head coaching position at Drake University in Des Moines, Iowa.
"This was a really hard decision to make," Creighton said. "These last seven years at Wabash have been the best years of my life, both on the field and off the field."
A national search for Creighton's successor is underway.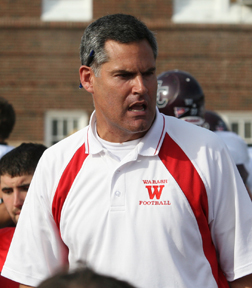 Creighton lifted the Wabash football program to national prominence, guiding the Little Giants to four North Coast Athletic Conference championships and three trips to the NCAA Division III football playoffs. Creighton posted a seven-year record of 63-15 and produced 75 All-Conference players, seven Conference Players of the Year, and 13 All-Americans, including 2007 AFCA All-American linebacker Adi Pynenberg.
"Chris Creighton is a great coach and a great teacher, a mentor who models personal integrity," said Wabash President Patrick E. White. "He has had a profound impact on the education of Wabash men; the football program and the College are better for his influence. We wish Chris and his family all the best in their new venture."
Creighton was named the North Coast Athletic Conference Coach of the Year in 2002, 2005, and 2007. He was the AFCA District II Coach of the Year in 2002.
"Chris Creighton's arrival at Wabash came at the time when the College was entering a new conference," said Dean of Students Tom Bambrey. "He ushered in a new and successful era for Wabash football. It's been a very special run."
At Drake, Creighton will replace interim head coach Steve Loney, who led the Bulldogs to a 6-5 record in 2007. Drake is an NCAA Division I-AA non-scholarship program and competes in the Pioneer Football League. Drake has an enrollment of 5,336 full-time undergraduate students and has six graduate degree programs. Drake Stadium, where the Bulldogs compete, seats 14,557 fans. Drake began intercollegiate football in 1893, has played in the post-season six times, and has an all-time win-loss record of 538-466-29.
"I was not looking to leave Wabash and didn't want to leave Wabash," Creighton said. "I have said a million of times that it is not about 'stepping up' or going to a 'higher level.' There is no higher level than Wabash.
"I want to be where God wants me to be and although leaving Wabash is going to be extremely painful for my family and me, we are convinced that we are supposed to go to Drake University. We believe that God has special things in store for Drake and we are excited about being a part of that," Creighton said.
Creighton leaves Wabash after one of his most successful seasons. His 2007 Little Giants were nationally ranked every week of the season and advanced to the Elite Eight of the NCAA Division III playoffs, losing to eventual national champion Wisconsin-Whitewater, and finished seventh in the final AFCA poll and 10th in the final d3football.com poll. Creighton guided Wabash to an 11-2 record in spite of losing All-American quarterback Dustin Huff in the first game of the season. Named NCAC Coach of the Year, Creighton led Wabash to an undefeated conference championship and playoff victories over the College of Mount St. Joseph and Case Western University.
Creighton will assume his responsibilities at Drake at the beginning of the new year.