Two Wabash Grads Featured in Esquire's Best/Brightest
• November 26, 2007

Share:
Two Wabash College graduates are featured in the current issue of Esquire Magazine as among the "best and brightest."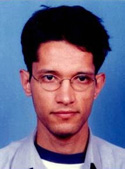 Geoffrey Coates '89 is featured under a category of "Six Ideas That will Change the World." Click here then scroll down the page to "The Next Plastic."
Gyanu Lamichhane '99 is featured on the second page of a story entitled "The Exterminators," which is about trying to find new cures for tuberculosis. Lamichhane is a researcher doing pioneering work.
Coates and Lamichhane majored in Chemistry at Wabash.
Photos: On homepage, Coates. At right, Lammichhane.