Little Giants Win Football Playoff Opener
by Howard W. Hewitt • November 17, 2007

Share:
An inspired third quarter propelled Wabash College Saturday into the second round of the NCAA Division III playoffs. The Little Giants put up 14 points in the period and hung on to beat Mount St. Joseph, 31-21.
Two short touchdown runs by Brock Graham gave Wabash a 31-14 edge in the third quarter while the defense was shutting the Lions down. See game photo albums No. 1, No. 2, and No. 3.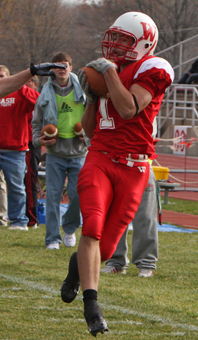 "We made big plays early in the second half," All-American linebacker Adi Pynenberg said. "We had a different attitude at halftime and we were focused. We bounced back from DePauw. We played much better and played with more confidence and kept our heads up. We made a point at the start of the week to keep our heads up."
The Little Giants (10-1) controlled most of the game after a shaky start, then withstood a Lions' comeback in the fourth quarter.
The shaky start came on the Little Giants' first possession when Alex Harbin tipped a Matt Hudson pass, caught it himself, then raced 56 yards for a touchdown giving MSJ a 7-0 lead. But much like it has all season, Wabash immediately responded with a 9-play, 65-yard drive that culminated with a Hudson 10-yard touchdown pass to Ray Green, 7-7.
"We threw the interception for a touchdown early but we responded," Wabash Coach Chris Creighton said. "We have had adversity all season and again last week. Our team keeps fighting and we kept fighting after the interception and that's what I'm most proud of."
The Little Giants added 10 points in the second period, the touchdown coming on a 66-yard drive with C.P. Porter gaining the final two yards for the score. A key play in the series was Hudson's 34-yard toss to Gabe Guerrero.
But Mount St. Joe showed its own resiliency after that score. The Lions moved the ball 64 yards on 11 plays, then Vince Palmer hit Bobby Poweski for a 5-yard score making it 14-14.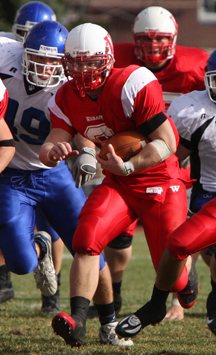 The Lions had another opportunity to move the ball down field but Pynenberg stepped in front of a pass at the MSJ 30 to set up the Little Giants. Four plays after the pick, Drew Oehler kicked a 29-yard field goal to make it 17-14 at the halftime break.
"I was at the right spot at the right time," Pynenberg said of the interception. "The defense really wanted to get some turnovers today and we did it."
The third quarter was the difference when Wabash set the tone early. The Little Giants took the kick and marched 70 yards with a nice mix of the run and pass. Graham caught passes of 5 and 15 yards. Evan Sobecki had an 11-yard run and a pass reception for 12 yards, before Hudson found Mike Russell for a 26-yard gainer. Graham took it in to cap the drive and a 24-14 Wabash lead.
"We made good plays and showed them some things we did not show them in the first half," quarterback Hudson said of the opening second-half drive. "We were disappointed with three three-and-outs later, but our defense was awesome."
The defense flexed its muscle forcing an MSJ three-and-out. Sobecki accounted for 43 yards on the next drive, and then Graham took it in again for a 31-14 bulge.
"The offensive line gets excited about running the ball," Creighton said. "Sobecki really ran hard today." The sophomore back finished with 94 yards on 18 runs.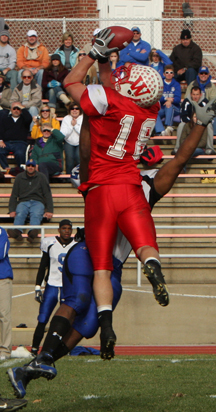 Defensively, the Little Giants really applied the pressure. They managed to record four quarterback sacks and added 12 tackles for loss. Chad Peterman had seven tackles and an interception.
"Number eleven (Darryl Kennon) caused havoc for us all day," Lions' quarterback Vince Palmer said. "They are a good team with a great defense."
Matt Kraft enjoyed a standout day with nine tackles, Pynenberg added eight. Kennon had just one sack but was credited with 3.5 tackles for loss. He kept pressure on Palmer throughout the day.
"We concentrated on getting pressure at every step," Kennon said. "We can't get too frustrated when he (the quarterback) runs. The key is to keep coming back and making plays and not force too much."
The Little Giants dominated the stat sheet rolling up 410 offensive yards to Mount St. Joe's 256. The rushing yardage was a wash with Wabash gaining 147 to MSJ's 159. But the passing yards made up the big difference in Wabash's favor, 263-97.
Hudson hit on 25-of46 passes with one touchdown and two interceptions. He had 263 yards connecting with eight different receivers.
Mount St. Joseph finished second to Franklin in the Heartland Collegiate Conference but got a bid to the playoffs. 
"We came to win and played at a high level," MSJ Coach Rob Huber said of his team's fourth straight playoff appearance. "We were under estimated. We are as good as Wabash, they just played better. Is Wabash's program better than ours? No. They just played better."
The Lions closed their season with a 9-2 mark while the Little Giants improved to 10-1. Wabash travels Saturday to Case-Western (11-0) at Cleveland for a second round game.
In photos: Top right: Mike Russell pulls in one of his five catches. Center left, Sobecki picks up more yardage. Lower right, Peterman's interception.