N.Y. Academy's First Grads Part of Top Ten Visit Day
by Howard W. Hewitt • November 9, 2007

Share:
More than 170 students ranked in the top ten of their high school classes visited Wabash Friday during the fifth Top Ten Scholarship Visitation Day. After completing eligibility and being accepted, the high school seniors became eligible for up to $60,000 in scholarships for their four years.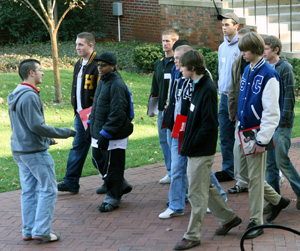 Plenty of Indiana high school students joined young men from several states to learn more about Wabash College. For some it was their first-ever visit, while others have made previous trips to campus. See a photo album by clicking here.
One group of students from New York City might have had the most interesting path to visit Wabash. Seven students from the Eagle Academy for Young Men were on campus with guidance counselor Don Ruff for visitation.
The Eagle Academy has gotten significant attention in the New York City area. It is a public high school which is primarily African-American and Hispanic students in an all-male setting. The school was founded in 2004 and will graduate its first class of 82 this school year.
Dean of Admissions Steve Klein visited the school to talk about Wabash and 23 members of the senior class turned out to hear about Wabash.
"My goal is not just to get these kids into college but it's their successful matriculation once they get there," Ruff said Friday. "I want to set them up for success."
The Academy has enjoyed extraordinary support from New York chapter of One Hundred Black Men. The organization seeks to improve the quality of life in their community and enhance educational and economic opportunities for all African Americans.
Every Eagle Academy student has a mentor who spends four hours a week with the student. The successful male, African-American role models are often missing from these young men's home in the Bronx.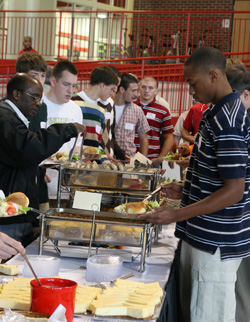 "I grew up in Harlem," Ruff explained. "I'm a first generation college student and was raised in a single-parent household. I was raised by all women. I grew up in an inner-city community in the projects."
But Ruff won a scholarship to Oberlin in Ohio and it changed his life. "My Oberlin education helped me get out of my negative New York mentality, having a chip on my shoulder and being very distrustful," he said. "Being at Oberlin and not having to worry about what block you're on or not having to look over your shoulder was a Utopia for me.
"That gave me a chance to come back and share my story with these students. My story reflects their experience. Education is the key to making a change in their life."
With no graduates to use as examples it's up to Ruff and other school staff members to provide examples for getting out of the city and getting a college education.
"It's a matter of getting the kids on track, getting them to understand cumulative grade point average and what that means.
"Honestly, the biggest challenge is the sticker shock when they see how much school costs. They clam up. It's something I have to fight just not with students but with parents."
Ruff is battling that hurdle by taking the conversation to eighth and ninth graders. He took a group of very young men to a college fair at Columbia this summer to expose them to the academic world.
"Remember some of these kids have never been out of the city," he said. He is trying to establish relationships with strong liberal arts colleges across the nation.
The Academy has gotten lots of attention for its success and the One Hundred Black Men, Inc. support. That attention has been aided by supporters like former New York City Mayor David Dinkins, actor Danny Glover, and entertainer Bill Cosby.
Ruff was extremely impressed during his discussions with Wabash alums during the visitation day. He hopes to get several of the seven students who visited interested in Wabash.
There were plenty of other stories, students from far away, and curious minds roving campus Friday. The young men and many of their parents were welcomed by Dean of Admissions Steve Klein and President Patrick White. The morning keynote address was given by Rich Calacci '91 who is a senior vice president with CBS.
Calacci told the young men Wabash is more than a place to get an education; he said Wabash provides a "template" for the rest of their lives. He assured the prospects they would learn to think critically and how to serve their families and communities during four years at Wabash.
Throughout the day the students and parents participated in a number of programs. Alumni panel members discussed how they put their liberal arts education to practical application in their careers. Students got real classroom exposure during break out sessions in different academic areas with Wabash College professors. Photos from sessions
The Top Ten Scholarship Day is for young men who rank in the top ten percent of their class after six semesters. Upon admission to the College, participants who complete their applications by the December 1, 2007 deadline will receive a Top Ten Scholarship with an annual value of $12,500 ($50,000 over four years). Students in the top five percent will receive Top Ten Scholarships valued at $15,000 ($60,000 over four years).
All Top Ten Scholarship Visit Day participants who apply for admission by December 1, 2007 will be mailed their admission decisions and scholarship awards on December 14, 2007.