Pulitzer Nominee Tom Spanbauer to Speak Tonight
by Howard W. Hewitt • October 16, 2007

Share:
Author Tom Spanbauer, a Pulitzer prize nominated author, will speak at Wabash College at 7 p.m. Thursday in Baxter 101. Spanbauer will be speaking on "Identities and Sexualities, The Importance of Assumption."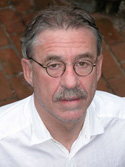 Spanbauer, a Portland, Oregon native, is the founder of Dangerous Writing. His approach features close attention to language with an openness to the source within each human for stories that no one else can tell.
He is the author of the critically-acclaimed "Man Who Fell in Love With The Moon," and "Now is the Hour" – one of Publisher's Week best one hundred books of 2006. His previous books include "In The City of Shy Hunters" and "Faraway Places."
Spanbauer has explored issues of race, sexual identity, and family in his novels. His lecture and book signing is sponsored by 'shOUT, Wabash's student organization for gay, bi-sexual, questioning and supportive students dedicated to campus awareness.