Bloomington, In.
by Pat East '00 • October 9, 2007

Share: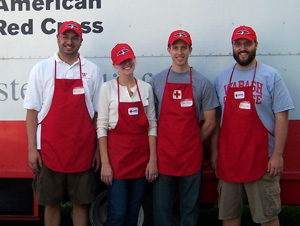 For the Bloomington site for Wabash Day, we volunteered at the annual book fair for the Monroe County chapter of the Red Cross.
This is their main fundraising event and attracts thousands of people throughout the weekend. We had four volunteers - Pat East '00, Amber Faust, Dan Faust '05, and Andy Oler '00 (L-R on the pics). We worked in two-hour shifts, greeting people at the door, taking a census of the attendees, sorting books, adding new inventory to the tables, and in general, filling in wherever they needed us the most!