President Issues Hays Challenge: $3 Million by 2009
• October 5, 2007

Share:
Saying that there is great strength in numbers, Wabash President Pat White issued a bold challenge to the College's alumni and loyal friends, asking them to achieve an Annual Fund goal never before reached.
The President said in his travels around the country in his first months as president, he has heard from literally hundreds of alumni of the impact the College had on them as undergraduates, and he urged those in attendance at the Celebrating Leadership Luncheon to dream even bigger dreams for Wabash.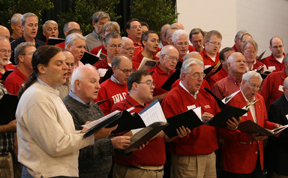 "We do not want to rest on our current strengths, but rather we want to position ourselves to grow and increase the Annual Fund to new successes in the next two years," he said. "This growth will demonstrate how the collective Wabash community can come together and continue to take responsibility for the dreams we outline for Wabash students in the College's next strategic plan."
President White then announced the Hays Challenge, a special opportunity to rally the Annual Fund to new heights. If by the end of the 2009 fiscal year, Wabash can grow the Annual Fund to $3 million in unrestricted support for Wabash students, alumnus Tom Hays '55 will make an additional gift of $1.1 million for the College's endowed scholarships.
The intermediate goal will be to reach $2.85 million for the current fiscal year, which ends June 30, 2008.
"Think about the impact your Annual Fund gift can have on Wabash men," President White added. "If you increase your gift $50, $100, or $250 and help grow the Annual Fund to $3 million by the end of fiscal 2009, then that $1.1 million will result in the equivalent of two full tuition scholarships for Wabash students.
"Cut or calculate the numbers like you wish, but this is a great opportunity for Wabash and Wabash students, and a great opportunity for all of us to come together and do our part to make it happen."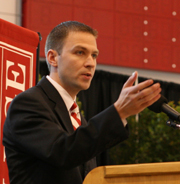 Director of the Annual Fund Joe Klen (left) pointed out that while Wabash is a relatively small college with few alumni, our collective effort has enormous impact on the experience young men have when they enroll at Wabash. While small in numbers, Wabash alumni have an enormous impact in their communities. "We have the advantage of strength in numbers," he said.
"I am grateful to Tom and Sue Hays for challenging our fellow alumni to increase their support for Wabash students," said Dean for Advancement Joe Emmick '92. "It is a great opportunity; if we band together to increase our annual support to $3 million over the next two years, Tom will increase our scholarship endowment by over $1 million."
For more information on how you can make a real difference in the lives of Wabash men, click here to learn about the Annual Fund.