Adventurer Drew '98 To Make Stop on Campus at 2 p.m.
by Howard Hewitt • October 3, 2007

Share:
Carl Drew '98 a marketing specialist, motivational speaker, and adventurer will be stopping on the Wabash campus Thursday afternoon for a brief break during his cross-country bike ride. Drew is executive director for LifeClimb – Teaching Teens to Climb Through Life.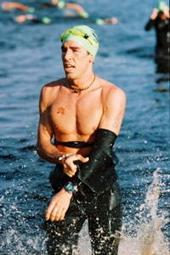 The eight riders will make a brief stop in front of the Chapel on the mall around 2 p.m.
Anyone interested in biking or the message the riders are carrying across the country is invited to visit during their brief stop. There are two other Indiana natives on the ride.
Drew, from Auburn, In., is a mountaineer and adventure athlete. He climbed K2 in Pakistan and is leading the group of eight riders across the country – 3,400 miles!
They are stopping throughout the ride to give motivational talks to students. The riders were in Champaign, Illinois Wednesday and will speak Friday in Indianapolis.
Drew was a psychology major at Wabash and member of Phi Gamma Delta