Father, Two Sons Make Most of Glee Club Reunion
by Gary James '10 • October 1, 2007

Share: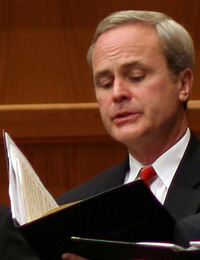 This year's glee club reunion did not only help former classmates to make connections but different generations of family members as well.
Clay, Campbell, and Luke Robbins are all Glee Club Wallies. Clay is a member of the class of 1979. The baritone was very proud to have son Campbell, Class of 2009, in attendance at the reunion. Although Luke, Class of 2011, was away for the weekend at a tennis tournament, the line of tradition was not broken.
"I think [the reunion] is a great idea," Campbell Robbins said. "I remember [several] years ago when they had the last one and how excited my dad was and my dad's friends as well. It's really good to participate in it. It's a very important weekend. It means a lot to have my father and my brother and I all involved in this tradition. He didn't do anything to pressure us. It's a good tradition, and hopefully we'll keep it up. "

"I feel very good about my sons being involved with glee club here," Clay Robbins said. "I had such a nice time at school with this. I'm pleased that they have the same opportunity. They've got a great conductor in Richard Bowen. The glee club's sounding better than I've ever heard it. And the fact that my boys have a chance to be in that is a real privilege. It does make me proud.
"I told the boys one of the reasons I like the glee club so much is because when you're in the glee club you get to participate in the life of the college in a way no other group does because you get to perform these events to commemorate the life of the college. Not only are you singing but you're getting to participate in those events. And I think it gives a richer college experience as a result."

Even though Luke couldn't participate, he too understands the Glee club plays an integral part of life at Wabash. "It is really cool for me to have this to share with my father and my brother," Luke said. "Growing up, they were the two people I looked up to the most, so being able to do something as important as being a member of the Glee Club just like they is a truly wonderful experience for me. Plus, Dr. and Mrs. Bowen are so cool!"
In photos: Top right, Clay Robbins during Saturday's Glee Club concert. Center left, Campbell '09 sings during the show. Bottom right, Luke Robbins was off with the Wabash tennis team.