NAWM Honors Barnette, Einterz, Kendall
by Jim Amidon • September 29, 2007

Share: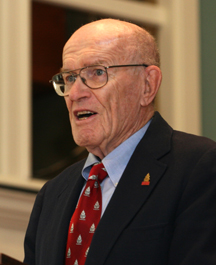 The National Association of Wabash Men honored its finest at Saturday's Homecoming Alumni Chapel. NAWM President Jim Dimos presented three Alumni Awards of Merit, three Alumni Admissions Fellows Awards, and named long-time computer center staffer Jasmine Robinson an Honorary Alumna.
The festive Chapel convocation included a welcome from President Pat White, brief performances by the Alumni Glee Club, and historical reflections by long-time Trustee Dick Ristine '41 (pictured right).
Speaking in commemoration of the College's 175th year, Ristine (who has been alive half the lifetime of the College) talked about the history of Wabash's extraordinary faculty.
"President Frank Sparks was fond of saying that at any given time Wabash exists chiefly for the students studying here," Ristine said. "He was right. But the most important ingredient in the education of students — and therefore the most important ingredient in the College — is the faculty.
"The faculty made us alumni and alumni are the College's only product."
Click here to see high resolution photographs from the Homecoming Alumni Chapel.
Receiving Alumni Awards of Merit were outgoing Chairman of the Board Joseph Barnette, Jr. '61, attorney David Kendall '66, and Dr. Robert Einterz '77.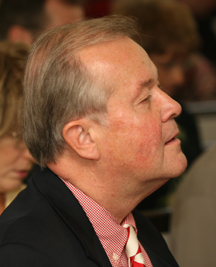 Dimos read citations for the award winners, which are excerpted below.
Barnette received the Frank W. Misch Alumni Service Award
"Your career as Chairman of the Board will be marked as one of great growth and change at the College. During your tenure, Wabash implemented its first large-scale strategic plan and master plan, and you were a steadying force behind the unprecedented $136 million Campaign for Leadership. Your service to Wabash has been unflappable, confident, and poised. Your calm — almost silent — leadership and empowerment of others has led to remarkable results: record- numbers of applications for admission; the construction and renovation of a dozen or more buildings; record fund raising; and most important, renewed enthusiasm and engagement by alumni to their alma mater. The National Association of Wabash Men is grateful that you have lifted our sights for what we might accomplish for future generations of Wabash men."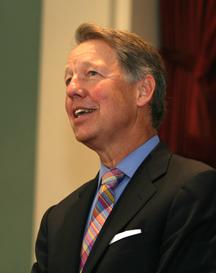 Kendall received the Clarence A. Jackson Career Service Award
"There was little doubt upon your graduation from Wabash in 1966 as a Rhodes Scholar that you would reach great heights. That you would change law before the United States Supreme Court, steadfastly safeguard the First Amendment of the Constitution, and represent a United States President goes far beyond what your professors and classmates could possibly have imagined four decades ago…
"That you have continued to learn and eagerly pursue evolving legal and political issues speaks well of your character. That your legal career has spanned such a wide range of clients and issues is testament to how critical thinking skills and a liberal education provide a versatile, even timeless foundation for life. For your distinguished legal career and for continuing to ask the most important legal questions of our time, the National Association of Wabash Men is proud to present you the Clarence A. Jackson Career Service Award."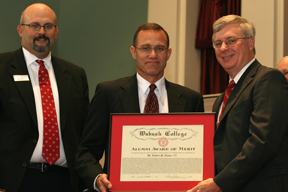 Einterz received the Fredrick J. Urbaska Civic Service Award
"Today we pay tribute to you by presenting you with the Fredrick J. Urbaska Civic Service Award, which typically honors alumni who have contributed most mightily to their own communities. The communities you serve most admirably are half a world away in the hundreds of tiny villages of Kenya, Africa where HIV/AIDS is an epidemic… Through the Academic Model for Prevention and Treatment of HIV/AIDs program — known as AMPATH — you take American doctors to Africa and bring Kenyan doctors-in-training to Indiana University for further schooling. The results of your efforts are ground-breaking, both in the creation of model program that will continue to educate doctors for generations and in the direct impact on the more than 50,000 Kenyans who have been treated as a result of the IU-Kenya Partnership… Throughout the last two decades you have been the quintessential world citizen, inviting to your home doctors, patients, and their families in a true celebration of community — and the power and impact communities can have in solving the world's most difficult problems."
The NAWM Board of Directors also honors alumni who contribute most mightily to the Admissions recruitment effort. Honored were Ristine '41 for his work in Northern Michigan; Dick Griesser '51, for his work in Wisconsin; and Jeff Wilson '91 for his work at Triton Central High School.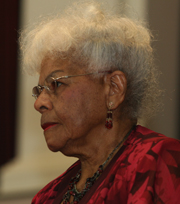 One of the Chapel's highlights was when Jasmine Robinson was named an Honorary Alumna for the Class of 1985. In his tribute, Dimos said, "How is it, Jasmine Robinson, that you have meant so much to so many at this rugged college for men? We believe it's your heart and your soul — your warmth, grace, and congeniality — that has softened the hearts of so many Wabash men. At a place that prides itself on teaching young bucks how to become gentlemen, you have provided an example of what it means to be a lady."