Freshmen Join Football Family at Camp
by Brent Harris • August 17, 2007

Share:
"I've certainly never done anything like this before at football practice!"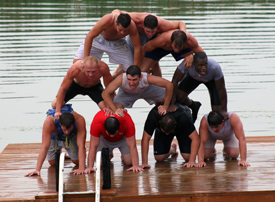 Freshman DJ Singfield was still soaked from swimming out to a raft with nine of his new football teammates Thursday afternoon. The group reached the raft in the middle of the Twin Lakes complex, formed a human pyramid, and began to sing "Old Wabash." This was the final event in a team obstacle course, and just one of the many seemingly non-football activities that takes place each year when the Little Giants leave campus to begin their training program. (See photo album here.)
The obstacle course included passing a football as a team down a hill without dropping the ball, pushing a huge tractor tire up that same hill, carrying one member of the team on a telephone poll through a winding trail in the woods. Certainly none of these activities were anything like what the Little Giants will face on the football field this season.
But Head Coach Chris Creighton quickly pointed out to the team why this prepares them for the upcoming year.
"One team had a belt break when they were dragging a tire across the field. They dropped the football on the passing drill and had to go all the way back up the hill and start again. They had some smaller guys carrying the front of the telephone poll going through the trail. They had to wait while one team finished singing on the raft before they could get on and form their pyramid.
"Things didn't go their way. But things won't go our way during the season either. A call won't go your way, injuries will happen, we will face adversity. But you don't quit. You don't complain. You keep going as a group and battle all the way to the end because you want to compete, because you're driven to compete, and because you have the passion and desire to compete."
All-Conference quarterback Dustin Huff has seen this before. A fifth-year senior, he didn't get a chance to participate in the obstacle course or any other events his freshman year due to an ankle injury he suffered as a senior in high school that kept him on crutches most of the fall of his rookie year. This year, however, he's seen a difference in events at camp.
"This is the earliest I've seen our football team come together," Huff said. "I believed the returning players from last year's team would come to camp driven to to erase the mistakes of the past year. We remember those two losses and remember they kept us from having the season we wanted.
"The freshmen didn't experience that. But they have really embraced what we're trying to do as a team. They have become part of this family faster than any other group I've seen. That should allow us to really focus on the football portion of the season now, because we've become a family. We know what we want as a group and we're ready to do what it takes to reach our goals."