Trainers Strictly Monitor Heat During Fall Practices
by Howard W. Hewitt • August 15, 2007

Share:
The return to fall classes and campus means a lot of things to Wabash students. For Little Giant student-athletes, taking care of themselves in the heat is a big issue.
Summer temperatures are a big concern all over the country but especially in Indiana where recent cases of heat stroke and even a death at Clinton Central High School a few years ago brought focus to the dangers.
Wabash's athletic trainers have a fluid replacement protocol that's issues to all coaches. Trainers provide water, monitor the weather and athletes, take head index readings, and maintain communication with the coaches about the conditions. Coaches are responsible to also monitor the weather and athletes and to modify activity if necessary.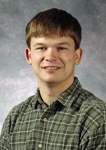 "We will check the air and humidity levels before, during, and at the end of each practice to see if practice should be changed in any way," Head Athletic Trainer Mark Colston said. "Changes can be as simple as more water breaks to changing practice times. We try to educate the athlete to come to us when they are feeling bad and to take frequent water breaks."
Every athlete must also take responsibility for their health as part of the protocol. Athletes are expected to weigh themselves before and after practice, consume 16 oz. of fluid two hours before a game or practice, drink every 15-20 minutes during activity, and to avoid carbonated drinks and caffeinated beverages.
Emergency procedures are also spelled out in the protocol should the need arise.
"You can only push the body so far before it breaks," Colston said. "Educating the athlete and making sure the athlete informs the medical staff if they're not feeling well is the most important factor. The earlier the problem is addressed, the shorter the recovery time."