Freshman Saturday Underway on Wabash Campus
by Howard W. Hewitt • August 13, 2007

Share:
A freshman class of 255 young men have arrived on the Wabash College to start their collegiate career. Orientation is underway with the traditional ringing in ceremony set for this afternoon.
The College's international students started arriving last week. Then Sunday 125 football players reported for the start of fall practice. The players spent the better part of the week off campus at training camp.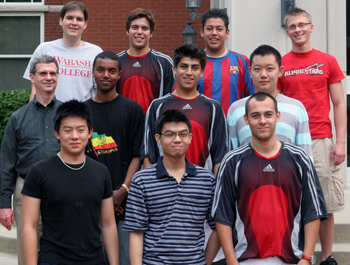 Students from Vietnam, Mexico, Ethiopia, Poland, China, Bolivia, Taiwan, England, and Romania will be included in the Class of 2011. They will continue to arrive this week and begin their orientation.
Several construction projects are nearing completion or just getting underway. Workers are pouring the foundation for the new Wabash Center. And the renovation of the old TKE House/College Hall will be complete by Saturday.
The Little Giants are poised for a big football season and welcomed 125 athletes Sunday afternoon. The football team will be off to camp Tuesday and begin preparations for the season opener on campus Sept. 8 against Franklin. Read Sports Information Director Brent Harris' blog about the first two days of workouts.
Roberto Giannini begins his second season as the Wabash soccer coach. The team reports to campus Thursday. Cross County will get underway Friday with Roger Busch leading the team in his first season head coach.
Student leaders meet on campus Wednesday to prepare for the new year. The Wabash Housing and Education Leaders Partnership (HELP) reviews leadership and residency issues.
For the second year key members of the Bachelor staff have arrived back on campus. The College newspaper, which will mark its 100th year in April, 2008, will again partner with the Crawfordsville Journal Review for a big Back to Campus issue which will publish the first day of classes, August 23.
In photos: On main homepage, the Class of 2011 International students. Above, the international class: Back row - Gabriel Stancu, Romania, Josue Gutierrez, Mexico, Jorge Diaz, Mexico, Filip Lempa, Poland. Second row - Director of International Students David Clapp, Dawit Kebede, Ethiopia, Fabricio Monroy, Bolivia, Tian Tian, China. Front row - Will Cheng, Taiwan, Long Cao, Vietnam, Liam Killick, England.