Nationally Ranked Football Team Reports to Camp
• August 8, 2007

Share: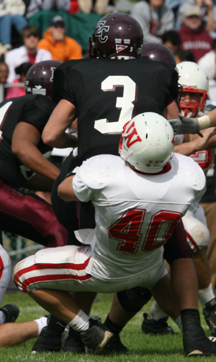 The Wabash College football team — ranked seventh in Street & Smith's, 16th in Lindy's College Football Preview, and 22nd in D3Football.com's preseason polls — hopes veteran offensive and defensive units can lead the 2007 Little Giants to their fourth conference championship in six seasons. Seniors Adrian Pynenberg (right), a two-time All-America and consensus preseason All-America selection at linebacker, and quarterback Dustin Huff, the Division III leader in passing efficiency in 2006, will attempt to take Wabash back to the playoffs with a third-straight conference championship.
The Little Giants won the 2005 championship with a 10-0, undefeated regular season, and shared the 2006 NCAC championship with Wittenberg after both teams posted 6-1 league records.
DEFENSE
Anchored by Pynenberg, the Wabash defense returns nine starters from the 2006 team. With the return of defensive end Darryl Kennon, a football letter winner in 2003 and 2004, and Jared Lange at nose guard, the Little Giants have 11 experienced veterans ready to line up on the field in the season opener.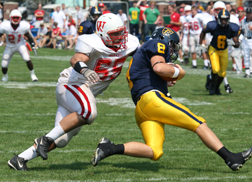 DEFENSIVE LINE
Kennon (SR, 6-3, 250) returned to Wabash in the spring of 2007 after a year away from school. He recorded 13-1/2 tackles for losses totaling 57 yards in 2004, including nine sacks for 49 yards. Lange (SR, 5-11, 252 — pictured left) missed most of the 2006 season after breaking a leg in the season opener against Franklin. A starter in 11 games in 2005, he tallied 55 tackles, 14-1/2 tackles for losses, and 4-1/2 sacks. Lange was an All-NCAC selection as a sophomore.
Joining Kennon and Lange up front will be Justin Gardiner (SR, 6-0, 235) and Joshua Gangloff (JR, 6-4, 265). Gardiner started eight games at defensive end last year with 31 tackles and 2-1/2 sacks. Gangloff earned nine starts at nose guard, finishing with 37 tackles, five TFLs, and two sacks. Senior Wes Anderson (5-11, 237) played in nine games last year, including three starts at defensive end. Sophomore Craig Morrison (6-2, 257) also returns after seeing action in six games in 2006.
LINEBACKERS
Pynenberg (SR, 5-10, 213), one of four co-captains in 2007 after earning the same honor in 2006, leads the Wabash defense for his final season. A three-year starter at inside linebacker, he earned NCAC Defensive Player of the Year honors in 2006. Pynenberg is fourth in Wabash history in tackles with 283 after posting a season-best 101 last year. He enters the 2007 campaign in the Wabash top-10 in career tackles for losses (47) and sacks (18-1/2). Fellow senior and co-captain Andy Deig (SR, 5-11, 211) joins Pynenberg at inside linebacker. Deig was third in tackles in 2006 with 71. He also had two interceptions and four tackles for losses of 11 yards.
Junior Matt Kraft (5-11, 196) was second on the team in tackles with 78 at strong safety. Joining Kraft at the other strong safety spot will be converted quarterback Rich Lehmann (JR, 6-3, 215). Lehmann made the transition from offense to defense last year, grabbing his first career interception in his first start against Earlham. Lehmann finished the year with 28 tackles in nine games.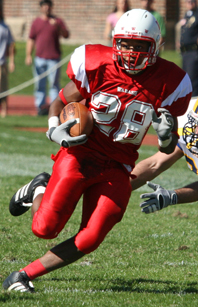 DEFENSIVE BACKS
All three starting defensive backs return for Wabash, as well. Cornerbacks Richard Roomes (SR, 5-11, 203) and Thomas Bell (SR, 5-9, 182 — pictured left) and free safety Chad Peterman (JR, 5-11, 180) combined for 111 tackles and seven interceptions in 2006. Peterman led the way with four picks and 42 tackles. Roomes, a 2007 co-captain, also made 42 stops for the season and picked off a pass against Wittenberg. Bell added 27 tackles and two interceptions.
Addrian Frederick (SO, 5-9,170) was a key reserve in the defensive backfield last season.
OFFENSE
The Wabash offense hopes to continue at the pace it set in 2006. The Little Giants finished third in the nation in passing offense, averaging 301 yards a game. Wabash was also ninth in total offense (423.1 ypg) and 11th in scoring (35.6 ppg), but hopes for a better pass-run balance in 2007.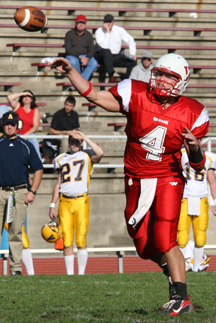 QUARTERBACKS
Huff (SR, 6-0, 219 — pictured right) returns for his final season after leading the nation in passing efficiency with a rating of 170.9. He threw for 2,961 yards and 29 touchdowns and completed 69.3 percent of his passes (215-of-318 with 8 interceptions). Huff earned First Team All-NCAC honors and was a solid candidate for NCAC Offensive Player of the Year honors after passing for more than 300 yards in half of his starts, including a 416-yard effort at Earlham.
Sophomore Kyle Augustinovicz (6-2, 195) is the only other quarterback on the roster with any varsity experience, joining the team after playing quarterback at Quincy University in Illinois as a freshman. Sophomores Matt Hudson (6-4, 226) and Ben Humphreys (5-11, 197), along with six freshmen, will join Augustinovicz in the battle for the backup role.
RECEIVERS
The quarterbacks will have plenty of targets returning in the receiving corps, led by preseason All-American Mike Russell (SR, 6-2, 180 — pictured below left). The wideout caught 60 passes for 1,052 yards and 13 TDs in 2006.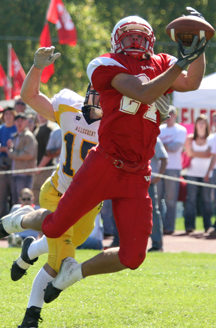 Russell will be joined once again by fellow seniors Ray Green (5-10, 182), Bart Banach (6-2, 194), and Gabe Guerrero (5-11, 180), along with junior Andrew Rode (6-4, 173). Green finished the 2006 season with 26 receptions for 274 yards and two TDs. Banach posted 18 catches for 146 yards and two TDs, while Guerrero had six catches for 121 yards. Rode made 15 catches for 225 yards and two TDs in six games.
J-back Brock Graham (SO, 6-0, 190) was the team's Freshman of the Year after hauling in nine passes for 99 yards and rushing for 75 yards and one score in seven attempts. He should see more playing time as a sophomore with the departure of tight ends Graham Nelson and Tim Shirack. Junior Scott Liska (6-6, 254) could also see varsity playing time at tight end.
RUNNING BACKS
Billy King and Don Juan Brown combined for nearly half of the team's 2006 rushing attempts and a third of the total rushing yards before graduating in May. Huff was the second-leading rusher last season with 326 yards and four TDs in 85 attempts. Graham had 75 yards and a touchdown on just seven carries, while Evan Sobecki (SO, 5-10, 191) showed promise as a freshman after missing most of his senior season in high school due to an injury. He finished his rookie season at Wabash with 73 yards on 11 carries. Juniors Bobby Kimp (5-7, 154) and Adam Pilli (5-10, 197) could also see varsity action in the backfield this season. Sophomore running back Fenton Blew joins the Little Giants after a year at the United States Air Force Academy.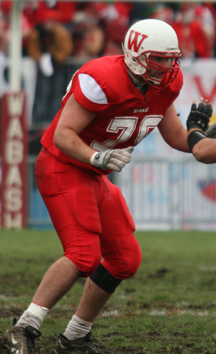 OFFENSIVE LINE
The Little Giants lose two all-conference offensive players up front, but have a third returning in 2007. All-NCAC Honorable Mention senior lineman Brian Hilts (6-6, 276 — pictured right) will be joined by junior Erik Shaver (6-4, 290) as returning starters in the trenches for the offense. Hilts started all 10 games last year for Wabash at left tackle, while Shaver started the final five games of the year and played in all ten games. Junior center Tony Neymeiyer (5-10, 245) earned one start in his eight games in 2006. Nate Powell (JR, 6-5, 274) and Pat Long (JR, 6-3, 282) will battle for spots in the starting lineup after injuries kept both players sidelined much of last year.
SPECIAL TEAMS
Second Team All-NCAC kicker Chad Finley (5-11, 200) returns for his senior season as the Little Giants' placekicker and punter. Finley set a Wabash record with 41 extra point kicks in 2006. He also averaged 35 yards per punt in 31 attempts. Drew Oehler (JR, 5-11, 182) handled kickoffs last season, averaging 52.6 yards with a net of 37.4 in his first season at Wabash. Kimp is the only experienced kick returner back from 2006. He averaged 16.9 yards per return in seven attempts.
SCHEDULE
The Little Giants open the 2007 campaign at home against Franklin College, one of the preseason favorites to win the Heartland Collegiate Athletic Conference title and one of two teams to defeat Wabash last year. Conference home games include Earlham, Oberlin, Denison, and key matchup against Wittenberg on October 13. The Little Giants travel to Millikin for the second game of the season, then head to Ohio Wesleyan, Allegheny, and Wooster in league play before concluding the season on the road at DePauw in the 114th Monon Bell Classic.