Wabash Hosts Community Fair Tuesday
• July 20, 2007

Share:
The Schroeder Center for Career Development at Wabash will sponsor its Second Annual Community Fair on August 28, 11 a.m. to 1:30 p.m. in Knowling Fieldhouse on the Wabash campus. The purpose of the event is to connect Crawfordsville-area businesses, services and volunteer opportunities with the Wabash students, faculty and staff.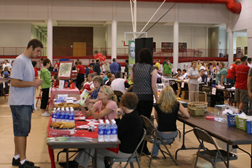 There is no cost to participate, and free food, beverages and parking will be provided.
Scott Crawford, director of Wabash's Schroeder Center, said the fair should provide students useful information on what's available to them in Crawfordsville.
"Quite a number of our students, and even faculty and staff, are not familiar with the Crawfordsville community, and this event provides them with the opportunity to learn where to shop, dine, volunteer, and work part-time," he said. "Last year, we had quite a good turnout and we hope to repeat or even beat that turnout this year".
Robert Arnett, a career center intern who's coordinating the Community Fair, reiterated that assumption.  "The students at Wabash usually don't have a very deep understanding of what the community has to offer. An event like the Community Fair will really help the community get the word out about themselves to the students, and give the students the opportunity to see what the community can offer them."
Arnett has been courting participants the past few weeks. Many organizations have already signed up so far, but he would like many more to do so.   For those participating, he encourages them to bring advertisements, brochures, coupons, prizes — anything that helps the students and staff understand what goods or services they offer.
The Community Fair is not a career fair. "This is more of a visibility type of event." Crawford said.
The advantage for community entities to take part is the "900 potential customers, plus the staff and faculty," Crawford said. "This is great exposure."
"It will tie the Crawfordsville and Wabash communities together," Arnett said. "We're hoping to bridge these two neighboring but sometimes distant communities."
Wabash is pleased to welcome Fountain Trust Bank and Kwik Kopy Printing as sponsors of this year's Community Fair.