World Champion Wrestling Instructors To Work Wabash Camp
by Brent Harris • June 12, 2007

Share: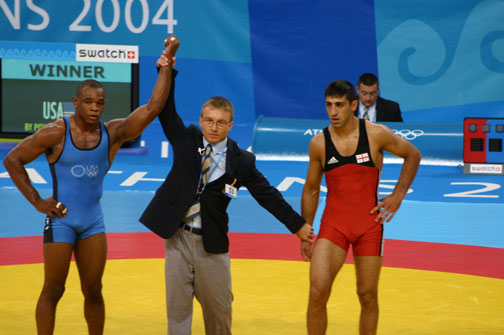 In less than 420 days the world's top athletes will gather in Beijing, China to participate in the 2008 Olympic Games. In less than 15 days several wrestlers with aspirations of joining the United States team will gather in the Knowling Fieldhouse on the Wabash College campus as instructors at the Little Giant Wrestling Team Camp.
Wabash wrestling coach Brian Anderson set one goal after the success of the 2006 camp that brought 2004 Olympic silver medalist Stephen Abas to work as an instructor. Anderson added a team camp to this year's schedule, which begins June 24th and runs through June 28. His instructors will include Sam Henson — 2000 Olympic silver medalist, 1998 World Champion, two-time NCAA champion. Joe Williams, a six-time national champion, three-time NCAA champion, and two-time World bronze medalist will also work along side three-time All-American and 2002 World Wrestling Team member Tim Hartung.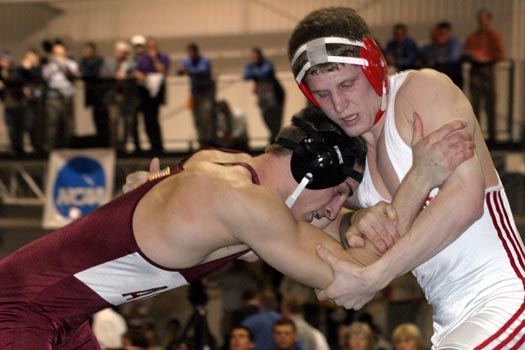 Two local favorites will also join the camp staff for the week. Two-time All-American wrestler and Wabash's all-time winningest wrestler Chris Healy '05 will be back on the mats at his alma mater. Former Purdue University two-time All-American and Indiana High School state champion Ben Wissel will also serve as an instructor. Wissel is currently training for the US Olympic qualifying matches in an attempt to join the squad in China for the 2008 games.
"It's taken over a year of preparation to get all of this in place," Anderson said. "We wanted to get a balance of national level instructors and wrestlers who had a strong pull from Indiana high schools.
"We wanted to present a camp that could handle about 250 wrestlers. But we surpassed that number very quickly. We are currently set for about 300 wrestlers to participate. Most of the teams are from Indiana high schools, but we have a few from Michigan and Illinois. We even have a team coming from Idaho."
The four-day camp will focus on learning new wrestling skills and honing existing abilities. Instruction in technique and dual meet competition will also be provided in an attempt to help not only the individual wrestler succeed next season, but to help build a team structure for the year, as well.
Many of the team will stay on the Wabash campus during the week, participating in two technique sessions in the morning and early afternoon before working on dual meet competition two more times before concluding the day's activities.
"Last year we saw what we are capable of producing from a one-week camp. We had great success with a good number of high school wrestlers participating in 2006.
"I am very appreciative of the support Wabash has given me to put together a camp like this and that it's great that around 300 student athletes and their coaches will be able to experience the awesome campus we have here at the College."
Photos - (top left) Joe Williams at the 2004 World Championships.
(bottom right) Former Wabash two-time All-American Chris Healy '05 will return to campus to serve as a camp instructor.